Process
In the transaction sampling process, the Controller's Office has created a global profile, which identifies transactions to be sampled in supplies and expenses, travel, and equipment. These transactions are to be reviewed for all departments. Departments can review additional items by creating their own target profiles.
In addition to global sampling, departments can monitor transactions in other ways, including:
Pre-reviewing items before they are charged to the ledger
Creating internal checks and balances based on the risk associated with the item
Reviewing 100% of the transactions that occur during the last 90 days of an expiring award, making notes in the Ledger Reviewer and using the ENPET process as appropriate.
Using the Account Code Summary report in FinancialLink at the end of a project for "questionable" transactions prior to closeout
Creating a target profile for other items that need further review
To create a target profile, use this navigation path:
Tools
Reconciliation
Transaction Sampling Tools
Transaction Sampling Profiler
Add Profile Group
Target profile examples
When you are creating a target profile for your department, check these examples to help identify the transactions you may want to sample:
Type of transaction
Questions to ask yourself
Express orders, U.S. Bank
Who is the cardholder?
What is the fund source?
Are the internal controls in my department adequate, now that U.S. Bank no longer provides statements?
Marketplace purchase
Are general supplies, furniture, or water coupons being charged to a federal fund?
Bookstore recharge
Has equipment been recharged in the past without notifying the business officer?
Is equipment being recharged against federal contracts or grants?
If so, how can we improve our internal controls?
Parking recharges
Are parking permits being charged to federal contracts or grants?
If so, how can we improve our internal controls?
Are parking permits being charged to sponsored projects? If so, do I need to supply additional justification?
Central Garage charges
Are shop charges such as body work, claim deductibles, or repairs being charged to federal contracts or grants?
If so, what type of internal control is needed to prevent this?
These types of transactions can be included in a target profile:
Encumbrance
Financial
Revenue
To target transactions, departments can also choose a secondary qualifier such as rule class, account code, range of account codes, PI, dollar amount, percentage, etc. See an example: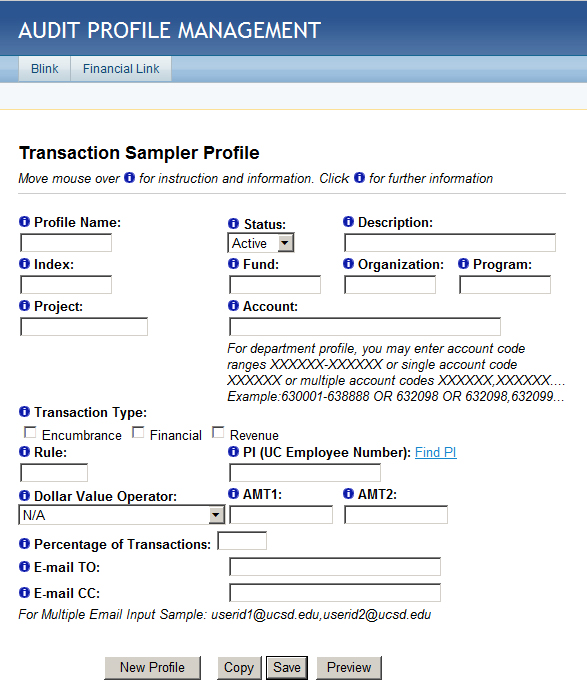 Display of target profiles
The target profile transaction will appear with a T icon within the Ledger Reviewer. An S icon represents items sampled via the global profiles. Target profiles run at ledger close. See example:

To view both global and target profiles, select All Sampled at the bottom of the selection screen. You can also choose to view only your specific target profile transactions by selecting viewing by Group ID or User ID at the bottom of the selection screen. See example:

Example of results when user chooses to view both global and target profiles: