ARRA (Stimulus Funding) Reporting
Last Updated: April 18, 2018 11:57:14 AM PDT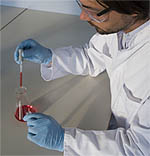 Find out how to comply with reporting requirements for ARRA funding.
Funds received from the American Recovery and Reinvestment Act (ARRA), also called stimulus funding, require special tracking and reporting. This page will be your resource for information about ARRA reporting.
Keep checking for new guidelines and tools as UC San Diego develops processes and procedures to clarify federal requirements.
Reporting deadlines
ARRA reporting began Oct. 1, 2009. Following that, UCSD must submit quarterly calendar reports and a final report (at the end date of the project or grant period) for all ARRA awards. Download a PI input form (Excel).
Reporting elements
2009 Quarter 4 method of calculating job creation and retention: Use this new guidance to report the number of jobs created and retained. Recipients will report job estimates on the basis of independent quarters. Full-time equivalents (FTEs) can be calculated in either of these 2 ways:
Determine the total number of hours worked by an employee in a Recovery Act job for the quarter. Divide total hours by the quarterly hours in a full-time schedule. If a full-time schedule is 40 hours a week, multiply 40 hours x 52 weeks = 2,080 total hours / year. Divide 2,080 total hours by 4 to equal 520 quarterly hours.

Example: If two full-time employees each worked 520 hours (1,040 hours) for the quarter and another half-time employee worked 260 hours, the total hours for the three employees would be 1,300 (520 + 520 + 260 = 1,300). Divide 1,300 by 520 to equal 2.50 FTEs created and retained.

If referring to the online Distribution of Payroll Expense (DOPE) reports for Main Campus and SOM, simply divide the total reported quarterly FTEs by 3.
Other reporting information
Agency-specific requirements
Awards from federal agencies often contain standard terms and conditions. For ARRA-funded projects, each agency has additional conditions. See these links for more information:
Additional resources
Background
President Obama signed ARRA into law on Feb. 17, 2009. The bill provides "investments needed to increase economic efficiency by spurring technological advances in science and health." As of May 20, 2010, UC San Diego scientists have received more than $142 million in ARRA funds, with numerous proposals for additional support still being evaluated.