Requesting access
You request access to financial systems access through your Department Security Administrator (DSA). If you don't know who your DSA is, use the DSA search to find out.
Ask your DSA to provide:
Access the Integrated Financial Information System (IFIS)
Access to the travel module in IFIS
Approval hierarchies for each of the 3 travel document types:

Going on a trip: travel preauthorization (TRP)
Prepayments for hotel, registration, service fees: travel invoice (TIV)
Cash advance: travel advance (ADV)
Note: If you are a traveler reporting your own expenses via MyTravel, you do not need template setup. 
Approval process and templates
When you use MyTravel, each transaction goes through an approval process driven by an approval template. To make sure each transaction goes through appropriate review and approval, you must:
Complete and approve a transaction to make it available to the approver at the next level
Select the appropriate approval template (if you have more than one) so it can be routed to the correct approver in your department
Final approval must be by an authority who is not the traveler, and who does not report to the traveler.
TRP template
When you preauthorize travel by completing Create a new trip in MyTravel, the TRP template is used. Example of the approval process: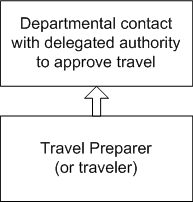 TIV and ADV templates
When you request a prepayment, the TIV template is used. A cash advance uses the ADV template. Example of the approval process: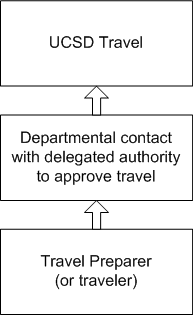 Template guidelines (for DSAs)
| MyTravel Transaction | Approval Template |
| --- | --- |
| Preauthorize travel | TRP |
| Prepay a travel expense | TIV |
| Request a cash advance or travel card prepayment | ADV |