Version 5 Article Template
Version 5 Article Template
Last Updated: October 14, 2022 3:30:20 PM PDT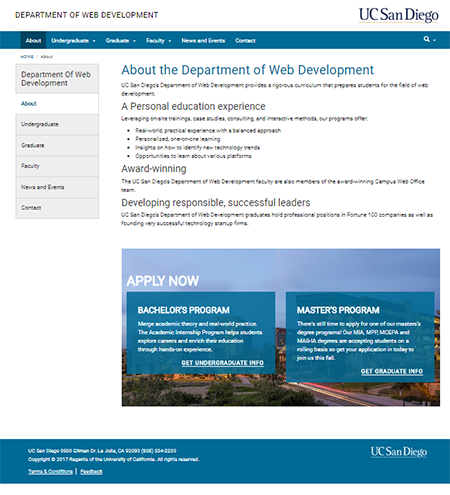 Learn how to add content to an article template for a CMS site using version 5.
The article (two column) template provides left-hand navigation that reflects the taxonomy of the site and a large area for content and images. Blocks of content can be placed below the navigation or as part of the main "middle" column.
Edit the article template
Metadata
Pages start with the metadata fields: Display Name, Title, Summary, Author.
Alternate Logo
You can choose an image to override the default logo set for your site. Be sure to discuss this with your site manager.
Navigation
Automatic Nav is selected by default. This will generate the left navigation from the 'Display Name' entries of the surrounding pages. We recommend leaving it this way unless you have a compelling reason to override the navigation. If you choose to use manual navigation, you can enter it into the WYSIWYG field, or use a shared block.
Main content
The page content is made up of blocks in two locations:
Left Blocks display content on the left column of the page, under the navigation.
Middle Blocks display content in the center of the page
You can choose between two types of content for each block:
WYSIWYG: U

se the 

WYSIWYG editor

 to enter content.

Shared Block: Link to a shared block (either in  the _block-content or _modules folders)
Choose column block content
For each block, under Content to Use select either WYSIWYG or Shared Block.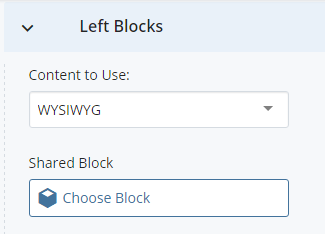 Note: Both options remain visible in the CMS after you choose your content to use. Only the content chosen under Content to use will be visible on the site. So if you enter text in the WYSIWYG, but have Shared Block chosen, the text in the WYSIWYG will not be visible on the page (even though you see it on the Edit screen). Likewise, if you choose a block but the Content to use is set to WYSIWYG, the block will not appear on the page.
Select shared block
Click Choose Block and Browse to the block you want in the _block-content folder or _modules folder.


Learn more about the different modules:
Click Choose.
Manipulating column blocks
To create more column blocks (left or middle), click the green + (plus sign)

.

To delete a column block, click the red X.

To reorder column blocks, use the up and down arrows.