Version 5 Homepage Template
Version 5 Homepage Template
Last Updated: October 9, 2018 7:25:10 AM PDT
Learn how to add content to a homepage template for a CMS site using version 5.
The homepage consists of the full width hero banner and any number of middle column blocks. These blocks can be WYSIWYG fields in the homepage template itself, or shared blocks, including modules. Modules are pre-canned blocks that have images and formatting built in. You need to create your modules before adding them to a page.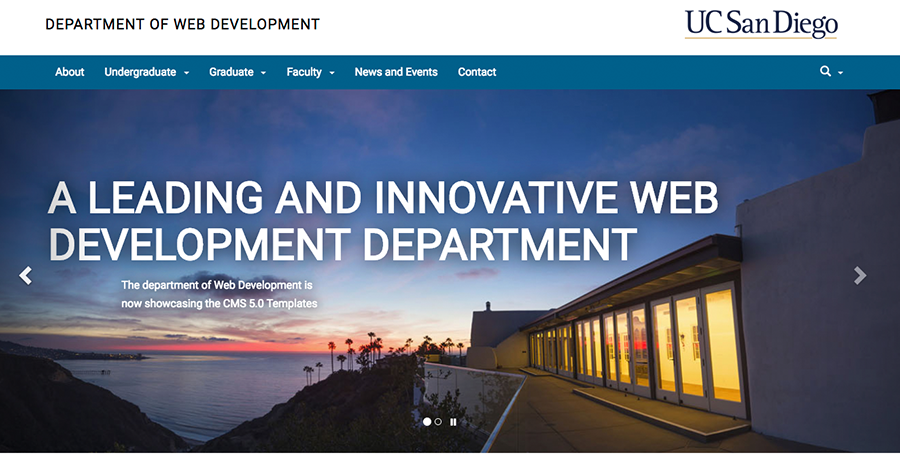 Edit your homepage
To modify your homepage, including the hero, navigate to your site's index page and click Edit.
Page information
Display Name: Display name of the page
Title: Page title
Summary: A short blurb that will appear under the page title in search results
Author: Name of the person responsible for updating this page
Main Content
Hero
The hero is part of the homeplage template.
Before you modify the hero, make sure you have an appropriate image to use. Hero image size is 1440 pixels x 530 pixels. Text used in the hero will be white. Choose an image dark enough that white text will be visible on top of it. Upload your image to _images/homepage.
Scroll down to Main Content > Hero Section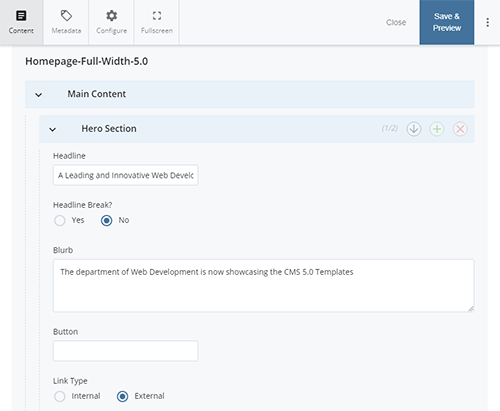 Complete the fields you want to use. Blank fields will result in a missing element (ex: leaving Button blank will mean no button appears in the hero).
Headline: Large, white, all caps text rendered towards the top of the image
Headline Break (yes/no): A second, indented headline
Blurb: Smaller, white text rendered below the Headline. Will be omitted on smaller screens.
Button: Yellow button with grey, all caps text
Link Type: Choose an internal or external link
Internal/ External Link: Navigate to the internal link or enter the external link
Background Image: Use the file chooser to select your image (size: 1440 x 530 pixels)
To set up an image rotator, click on the green + sign next to Hero Section. Complete the fields for each additional section. Use the up and down arrows to set the order of the hero sections. Use the red X to delete a section.
Middle Blocks
You can add any number of middle blocks. Use the icons to the right of Middle Blocks to manipulate them:
Up and Down arrows: Change the order of your middle blocks
Green + : Add a new middle block
Red X : Delete a middle block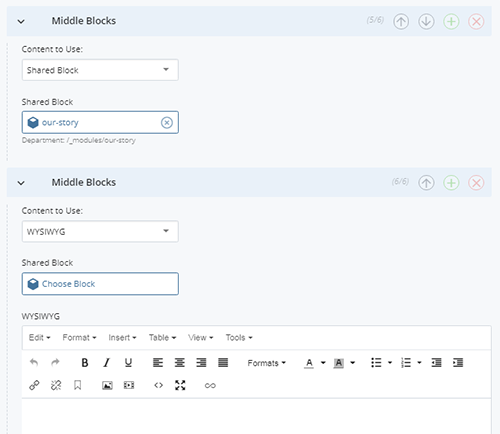 For Content to Use choose one of the following:
Shared Block: Use the file chooser labeled 'Shared Block' to navigate to the module you want to add to the homepage. Learn more about the different modules:
WYSIWYG: Ignore the

file chooser labeled 'Shared Block'  and

 add content in the WYSIWYG editor.
Save your changes
Click Save & Preview and if you are satisfied, Submit your changes. Publish your page when ready.