V5 Enhancements
Last Updated: October 14, 2022 4:03:44 PM PDT
Learn about two new enhancements to the version 5 (V5) homepage template and modules.
Hero image enhancements
You now have new options for hero images at the top of your homepage:
Center the headline and blurb instead of left align
Choose different button colors:

Yellow
Orange
Gold
Cyan

If you don't have the correct sized images, you can pick a pre-canned background with a graphic overlay:

Pick a background color–Dark Blue, Light Blue, or Neutral Gray
Pick a graphic overlay–Library or trident logo
Example of dark blue background with centered headline, trident graphic, and an orange button:



Example of gray background  left-aligned headline, trident graphic, and a cyan button:

Complete the fields you want to use.
Slide type: You now need to choose from Image (upload your own) and Default (pre-canned backgrounds)
Headline alignment: Choose Left or Centered. (This will change the alignment of both the headline and the blurb).
Headline: Large, white, all caps text rendered towards the top of the image
Headline Break (yes/no): A second, indented headline
Blurb: Smaller, white text rendered below the Headline. Will be omitted on smaller screens.
Button: Enter "call to action" text.
Button Color: Choose from Yellow, Cyan, Orange, or Gold
Link Type: Choose an internal or external link
Internal/ External Link: Navigate to the internal link or enter the external link
Background Image: (If Slide type is Image) Use the file chooser to select your image (size: 1440 x 530 pixels)
Slide Background Color: (if Slide type is Default) Choose from Dark Blue, Light Blue, or Neutral Gray
Overlay Graphic: Choose Trident, Geisel Library, or none.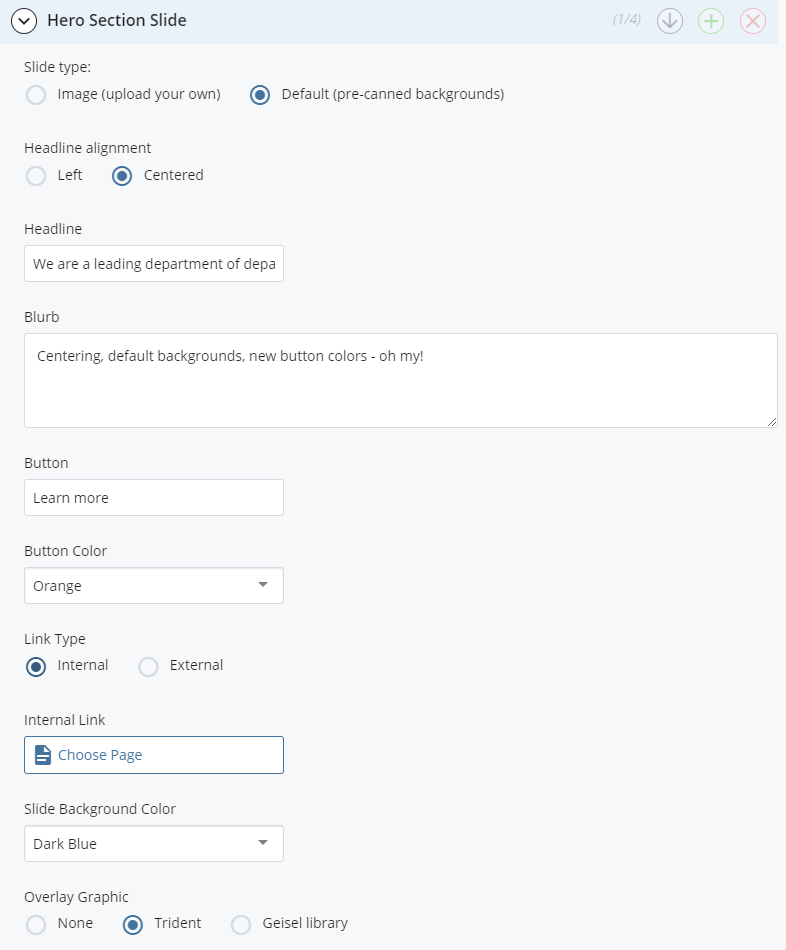 Add a trident background to the call to action module
You can now replace the image in call to action module with a yellow trident background. This also changes the call to action button from yellow to blue: