Configuring Windows Vista to Use Encrypted (WPA2-E) Wireless Services at UCSD
Configuring Windows Vista to Use Encrypted (WPA2-E) Wireless Services at UCSD
Last Updated: June 19, 2017 1:49:36 PM PDT
Learn how to configure your Windows Vista machine to use Wi-Fi Protected Access-Enterprise (WPA2-E) at UCSD. (Updated 7/30/2013.)
Note:
You must have Administrator privileges on your PC to successfully complete these steps.
If you're using the wireless card manufacturer's software program to control your wireless, see alternate instructions.
If your machine is normally connected to the Active Directory, skip to step 5.
Right-click the wireless network icon next to your clock and choose View available wireless networks. (The Windows Network Connection Status window will open.)
Click View Wireless Networks. Look for "UCSD-PROTECTED," but do not select it yet.
If you see this option, you can use encrypted wireless in this area.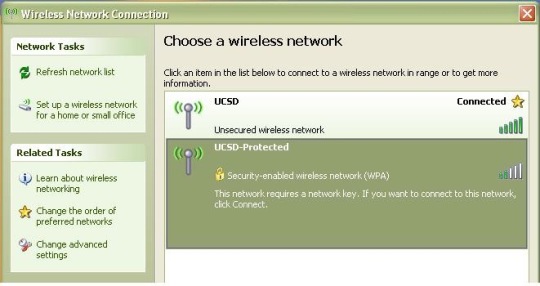 In View Wireless Networks, click the UCSD-GUEST entry if you are currently using this network and disconnect from it.
In the left column under Related tasks, click Change the order of preferred networks. The Wireless Network Connection Properties window will open to the Wireless Networks tab.
Click Add located under Preferred networks.


The Wireless network properties window opens to the Association tab.
In the network name field (SSID), enter UCSD-PROTECTED.
Set the Network Authentication to WPA2. If WPA2 is not available on your computer, select WPA.
Set the Data Encryption to AES. If AES is not available on your computer, select TKIP.


Click the Authentication tab.
Select the EAP Type drop-down menu and select Protected EAP (PEAP).
Uncheck Authenticate as computer when computer information is available. (Note: The Enable IEEE 802.1x authentication for this network checkbox should be selected and grayed out.)


Click Properties.
Uncheck Validate server certificate.
Select Authentication Method should be set to Secured password (EAP-MSCHAP-v2).
Check Enable Fast Reconnect.
Do not click OK without following directions in Step 6 below
  
Click Configure.
Uncheck Automatically use my Windows logon name and password.
Click OK.
Click OK on all remaining windows.


When you are within range of a wireless network access point, a message balloon will appear next to your clock asking you to provide additional information to authenticate to the network. Click inside the balloon and supply your Active Directory username and password (no domain is needed).


It may be necessary to turn your wireless off and back on again in order to detect UCSD-PROTECTED.
If you continue to have problems, make sure you have installed all available patches for your wireless card (check the manufacturer's web site).