How to Select a Printer and Print From PPS
How to Select a Printer and Print From PPS
Last Updated: November 24, 2015 5:14:43 PM PST
Learn how to print from the Payroll Personnel System (PPS).
You must have a user ID and password to log onto the mainframe. If you don't yet have a user ID and password, contact your departmental security administrator. (Find your DSA.)
Select PPS from the main menu and press Enter.
In the example below, UCSA has been entered in the field following the Next Func prompt near the bottom of the screen.
Click Enter.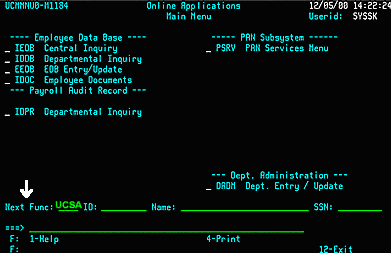 You can choose the print option in one of two ways:

Select PRNT from the list or
Type PRNT in the field following Next Func near the bottom of the screen.

Click Enter.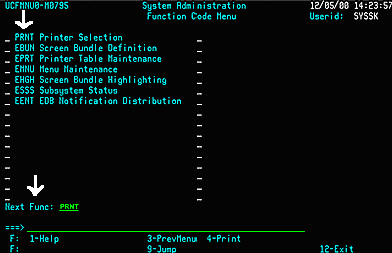 Select the line that shows your printer ID. The printer BFS-MAIL SERVICE has been selected in the example below.
Enter the number of copies you want to print. The number must be two digits (such as 01).
Click F4 to print the report.
Note: The next time you want to print from PPS, you won't need to select the printer.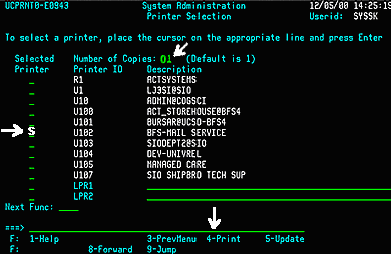 You can request a remote printer be setup by sending an e-mail to acthelp@ucsd.edu with the IP address of the printer and its physical location (building, room number). Once a remote printer has been setup, it will be designated a 'U' number (U123, U678, etc.). If you encounter issues with the printer after it has been setup. You can send an email to acthelp@ucsd.edu, along with the printer U number and the issue can be researched.
For more information, check with the systems administrator in your department.