Purpose
To provide advice and assistance to AWS account holders who want to take advantage of cloud resources
To help researchers save money on cloud infrastructure
To provide pricing and contract terms that are more flexible and suitable for researchers
The Cloud Optimization Center consists of three concepts.
1. Community of Practice
A central hub where all UC San Diego AWS users can congregate to ask or answer questions, document, research, discuss, collaborate, and support campus AWS efforts.
Slack team: ucsdtech.slack.com
channel: #aws_cloudystuff
The following slides are from the February 7th Cost Optimization presentation by AWS.
2. Consolidated Billing (Formerly Project MOSAIC)
An ongoing partnership of ITS-coordinated campuswide AWS accounts grouped by financial vertical into consolidated billing families; Administrative, Research, Instruction, HIPAA, Strategic Blue, Other.
AWS Consolidated Billing
This service allows you to pay for AWS charges by recharge billing to your fund manager instead of being invoiced monthly by Amazon. 
Operations
We currently have the above-listed UCSD Master Paying accounts established with Amazon. If you have an existing AWS account, we will invite you to link your account to an appropriate UCSD Master Paying account. This allows us to pay the charges of your account, which are called linked accounts.

The UCSD Master Paying account is billed for all charges of the linked accounts. However, each linked account is completely independent in every other way (signing up for services, accessing resources, using AWS Premium Support, etc.). The UCSD Master Paying account owner cannot access data belonging to the linked account owners (e.g., their files in Amazon S3). Each account owner uses their own IAM user name and password, with account permissions assigned independently of any other account in the Consolidated Billing family.

Each month AWS charges the UCSD Master Paying accounts for all the linked account charges. ITS manages the invoicing of the Master Paying account and we recharge you monthly on the activity of your linked account.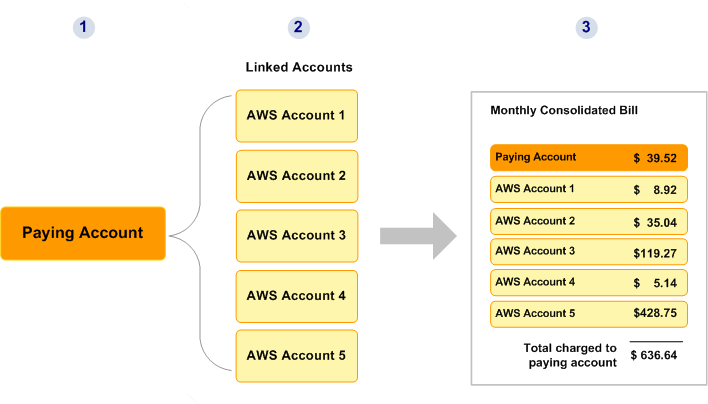 Benefits
Managed, consolidated billing.
Aggregated volume discounts, credits, and fee waivers associated with the Master Enterprise Agreement for the UCSD AWS accounts.
An option for cloud usage reviews and recommendations at a later date.
You retain full technical control.
Accounts can leave Consolidated Billing at any time. You would go back to being invoiced directly by Amazon. 
Next Steps
Request to be a part of Consolidated Billing via our registration form. 
3. AWS Cost Optimization (Pilot) Program
A two-part program.
We analyze your account usage and spend. We provide detailed recommendations on how you can optimize cost.
If your account is selected to participate in the program, we will invite your account to join the Strategic Blue Org vertical.
This program is a partnership between ITS, SDSC, Health Sciences IS & is supported by partnerships with Amazon and UCOP.
Purpose
The purpose of the Cost Optimization Program is to discover how much money we can save researchers by using long-term reserved instances and sharing them "on-demand."
We have partnered with AWS and Strategic Blue (as the Reserved Instance broker) to provide monthly analysis of usage and potential savings.
You will never be charged more than the On-Demand cost, and you may be able to save money (depending on your utilization).
How to Participate
Step 1: Request to be a part of the Price Optimization Program via our online registration form.
Step 2: We will contact you to establish a time to meet and discuss next steps. You will need to agree to the following:
Provide read-only access to your billing data
Be a linked account to the Strategic Blue Org / UCSD Master Payer account
As always, you retain full technical control of your account - however, the billing dashboard is disabled to avoid RI purchase conflicts.
Step 3: Through our Strategic Blue partnership, we provide a detailed analysis of your AWS usage and provide recommendations on how you may optimize your spend.
Step 4: We invite you to join the Strategic Blue Org Master Payer vertical.
Where it makes sense, we will purchase reserved instances in the Master Payer account and they will automatically be applied to your linked account (if applicable).
At any time, you can leave this vertical and join Consolidated Billing, or leave the ITS Organizations. All modifications can be reverted, and there is no penalty for leaving the Program.
If for any reason, the Strategic Blue partnership ends, we will default to returning your account to our Consolidated Billing verticals, and you will be recharged each month for your AWS spend.
Next Steps
Request to be a part of the Price Optimization Program via our online registration form (one form per account please).