Purpose
To provide advice and assistance to AWS account holders who want to take advantage of cloud resources
To help researchers save money on cloud infrastructure
To provide pricing and contract terms that are more flexible and suitable for researchers
The Cloud Optimization Center consists of three primary entities.
1. Community of Practice
A central hub where all UC San Diego AWS users can congregate to ask or answer questions, document, research, discuss, collaborate, and support campus AWS efforts.
Slack team: ucsdtech.slack.com
channel: #aws_cloudystuff
The following slides are from the February 7th Cost Optimization presentation by AWS.
2. Project MOSAIC
Mechanics Of Spend Aggregation In the Cloud is an ongoing partnership of ITS-coordinated campuswide AWS accounts grouped by financial vertical into consolidated billing families; Research, Instruction, Enterprise, HIPAA, Other.
AWS Consolidated Billing
This service allows you to pay for AWS charges by recharge billing to your fund manager instead of being invoiced monthly by Amazon. 
Operations
We have UCSD Master Paying accounts established with Amazon. If you have an existing AWS account, we will link your account to the UCSD Master Paying account. This allows us to pay the charges of your account, which are called linked accounts.

The UCSD Master Paying account is billed for all charges of the linked accounts. However, each linked account is completely independent in every other way (signing up for services, accessing resources, using AWS Premium Support, etc.). The UCSD Master Paying account owner cannot access data belonging to the linked account owners (e.g., their files in Amazon S3). Each account owner uses their own IAM user name and password, with account permissions assigned independently of any other account in the Consolidated Billing family.

Each month AWS charges the UCSD Master Paying accounts for all the linked account charges. ITS manages the invoicing of the Master Paying account and we recharge you monthly on the activity of your linked account.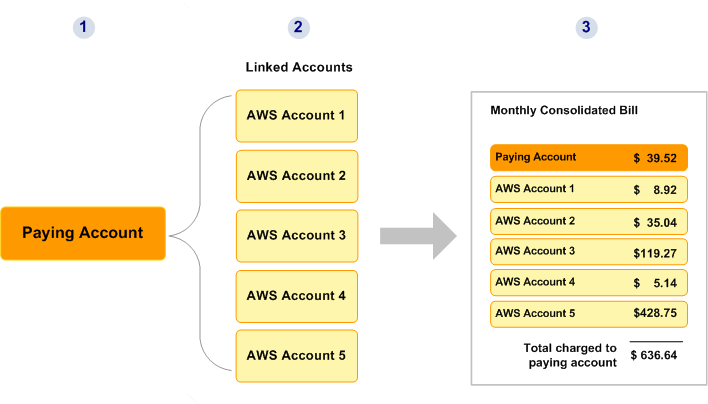 Benefits
Managed, consolidated billing.
Discounts, credits, fee waivers associated with the Master UCSD AWS account.
An option for cloud usage reviews and recommendations.
You retain full technical control.
Accounts can leave Consolidated Billing at any time. You would go back to being invoiced directly by Amazon. 
Next Steps
Request to be a part of Consolidated Billing via our registration form. 
3. AWS Price Optimization Program
We analyze usage and spend. We provide detailed recommendations on how you can optimize cost. If your account is selected to participate in the program, we will subsidize your AWS charges for up to six months. The program is a partnership between ITS, SDSC, Health Sciences IS & is supported by partnerships with Amazon and UCOP.
Purpose
The purpose of the Price Optimization Program is to see how much money we can save researchers by using long term reserved instances and sharing them "on-demand." 
How to Participate
Step 1: Request to be a part of the Price Optimization Program via our online registration form.
Step 2: We will contact you to establish a time to meet and discuss next steps. You will need to agree to the following:
Provide read-only access to your billing data
Be a linked account to a UCSD Master Paying account
If accepted, your AWS spend will be subsidized up to 6 months during the program. You retain full technical control of your account.
Step 3: With a 3rd party partnership, we provide a detailed analysis of your AWS usage and provide recommendations on how you may optimize your bill.
Step 4: Where it makes sense, we will purchase reserved instances in the Master Payer account and apply them to your linked account. We will coordinate with you before doing anything.
At termination of trial period, the account can remain in ITS Project MOSAIC and Consolidated Billing - and you will be recharged each month for your AWS spend. Alternatively, all modifications can be reverted.
Next Steps
Request to be a part of the Price Optimization Program via our online registration form (one form per account please).
More information
Read more about
cloud computing at UC San Diego