Visual Media Group
Last Updated: November 29, 2017 11:49:44 AM PST
What we do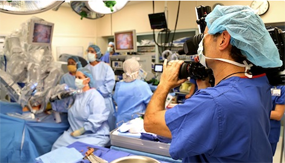 The Visual Media Group produces high quality videos for UC San Diego Health Sciences and Health Systems with an emphasis on programs for medical professionals. Our programs strengthen the promotional or educational message for clinical studies, research projects, medical facilities, curriculum, and media release.
We also serve the overall UC San Diego University with public relations, donor relations, promotional, and event productions, and tribute videos.
VMG is a recharge unit serving the university community using an internal charge-back system. VMG also accepts non-university clients.
Visit the Visual Media Group website.
Video production services
Pre-Production
Our mission is to collaborate with our clients creating a communication goal for the video that ensures the audience receives the desired message. This may include writing a script and outlining their communication goals, planning shoots, auditioning actors or voice over talent, and then start production.
Production
Our wide array of equipment allows us to go anywhere and record the highest broadcast quality location production and "switched feed" recording for lectures and training or seminars.  We record in HD or SD. Our soundproof studio is on the School of Medicine campus and easily accessible.
Post-Production
Our combined 60 years of post-production experience and industry standard editing tools enhance every video we produce. Attention to detail, a seamless flow of content, visually pleasing graphics and beautiful backgrounds, all put to just the right music, offer a professional product everyone is proud of.
About us
Contacts
Managing Producer
Producer
Location