BSA Elections
Last Updated: June 13, 2022 8:37:53 AM PDT
Read more about the Election Process at the Black Staff Association.
Elections 2022 - 23
If you or someone you know is interested in becoming an active member of a progressive organization, please consider taking on a leadership role now. Nominations are now being accepted for all positions (see below) on the 2022-23 Black Staff Association Executive Board through 11:59 pm on June 5, 2022.  Please submit your nomination here.
Any general body member may submit a nomination; however, nominees must meet the following criteria:
Must be career staff employees and must have successfully completed their probationary period.
Must be willing to accept the responsibilities of the position of which they are nominated for a one (1) year term.
| | |
| --- | --- |
| Elected Positions | Committee Chairs* |
| Chair | Programs & Events |
| Co-Chair, Campus | Membership |
| Co-Chair, Health | Communications |
| Assistant Chair, Health | Website Coordinator |
| Secretary | Fundraising & Scholarship |
| Treasurer | Training & Development |
Note: Committee Chairs are appointed by BSA Executive Board. However, nominations are welcome and desired.
When thinking of who to nominate, also think of how you as an individual member can personally contribute to their success and effectiveness. Some examples of how you can support the BSA Executive Board are noted below:
Volunteering
Spreading the word about programs/events/activities
Providing feedback and topic recommendations for workshops
Sharing words of encouragement and appreciation
 While there is much that is the responsibility of the Executive Board, we are here to serve you. Our collective experiences at UC San Diego can be enhanced through the contributions of individual general body members. One does not have to have a title to lead. In essence, your participation and communication is welcome, needed and appreciated.
IMPORTANT
Please review the BSA Constitution for more information regarding the roles and responsibilities of each position.  The time commitment for each position varies but it most cases range from about 2-5 hours per month.  This includes a monthly executive board meeting, quarterly general body meetings and additional efforts for special projects/events & correspondence.  
Note: Monthly meetings are held on the fourth Wednesday from 1:00pm to 2:30pm.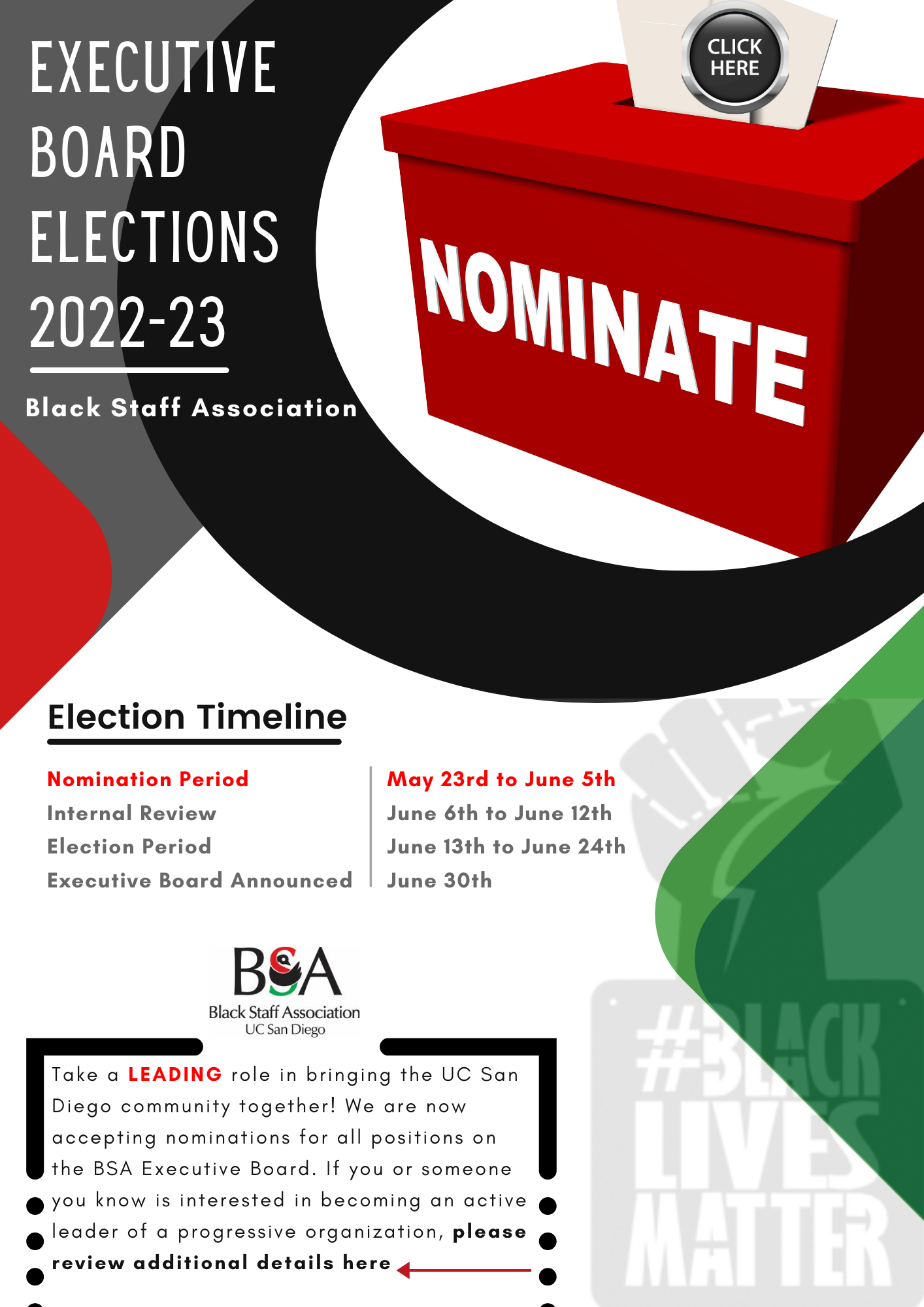 For questions or if you experience any technical issues, please contact Pamela Fruge, Elections Chair, at pfruge@ucsd.edu.