Frequently Asked Questions (FAQs)
Frequently Asked Questions (FAQs)
Last Updated: March 23, 2023 9:36:42 AM PDT
Why are we doing this reporting?
The effects of COVID-19 are far reaching. In order to create strategies to mitigate financial impact granular reporting on expenditures is needed.
This expenditure tracking will:
Build the strongest possible case for any potential reimbursement of COVID costs including federal opportunities

Meet regulatory requirements from agencies

Inform decisions about how available funds might be distributed
Inform campus and systemwide leadership on COVID financial impacts and labor efforts
Inform COVID-recovery teams for future planning of revenue recovery and areas at risk
External Reporting Agency request
CA State Department of Finance (DOF) is asking every State agency to report expenses related to COVID-19 on a monthly basis.
Campus and medical centers can also use this information to help direct efforts to seek recovery or reimbursement of expenses at the Federal (FEMA, Center for Disease Control, Health and Human Services), CA State, County, and local levels.
Who are we to reporting and why?
In alignment with reporting needs, UC San Diego will be reporting and categorizing impact by General Campus and Medical Center, including UC Health. In alignment with systemwide efforts, these will be reported up to the Office of the President to be consolidated into impacts analysis for the CA State DOF.

What do I need to report and how frequently?
Extraordinary expenses increases and financial impacts duet to COVID-19 are being collected.
Categories include:
Revenue losses both external and internal (recharge)

Expenditure reductions
Non labor expenditure, revenue reporting, and cost savings will include two components, prior month actuals true-up and upcoming projected expenses.

How, where, and when is this information due?
Units who have significant impacts will need to collect and track expenses on a unique and separate index (prior to OFC cut over). Detailsregarding future chart element track to be announced in the new fiscal year.
A SharePoint document has been created to bring together information from various units across campus. If you need access please submit a SNOW ticket.
What cost will be reimbursed?
Although there is a general idea of the types of expenses that may be reimbursed there is no list of guaranteed reimbursements at this time.
Expand section Loss Revenue and Expenditure Reporting
For loss of revenue, what do I consider?
Revenue loss are immediate losses. Please also track separately and/or exclude revenue losses that may actually be 'deferred revenue', i.e. that will be paid later in the year when students return to campus (and be sure to exclude these from subsequent reports), or international travel/programs related to sponsored research that will take place later in the year.
When we get to Summer and Fall '20 term, you will want to analyze what revenues would have been (using enrollments or prior year revenue) to compare against actuals for the year. You can submit estimates beginning in the month that the revenue is typically collected and true this up when you have better numbers.
What about internal recharges?
For DOF reporting internal recharges are not counted, however for internal tracking and future planning campus is asking that impact be collected.
For this campus report, what should I include in each category?
Financial Impact varies across campus and can include a wide array of items. Common examples and that are being captured in each category is below.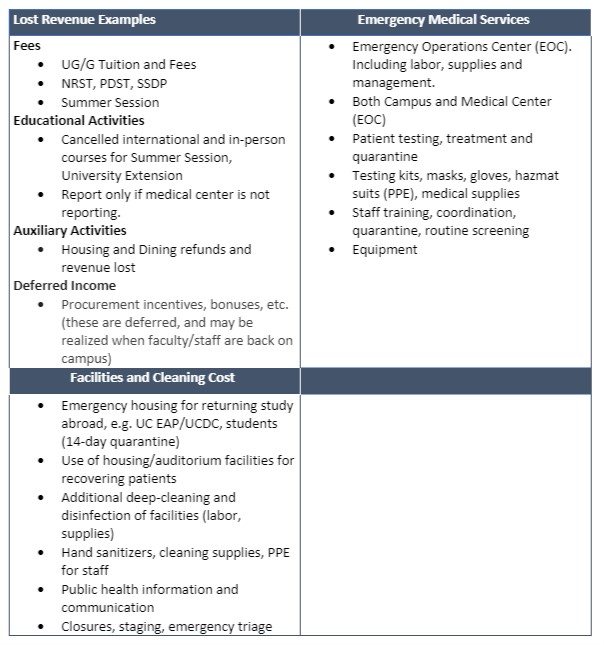 What is considered labor hours for reporting?
Staff: report time in a minimum of 15-minute increments; Example: if staff spent 33 minutes on COVID labor, report it as 30 minutes.
Why is labor being tracked differently than non-labor?
COVID labor cost will be determined based on hours and converted into a cost base. The labor tracking tool will be utilized to ensure consistency across the campus integrating with UCPath as required for reimbursement/reporting.
Will we need to track cost data retroactively? If so, for how far back?
Yes - all data must be captured from January 20th (emergency declaration date) to the present.
If employees are essential and continue to work on campus but are not doing and COVID related work should we track their hours?
No - if an employee is doing their normal job but happens to be on campus through the closure, do not track their hours as COVID. If they are doing work that is COVID-related and/or falls into any of the labor categories that we've provided, please track accordingly.
Should we track Academic effort for remote instruction preparation due to COVID?
No. Guidance from Office of the President excludes Academic appointment effort tracking.
Will COVID related Admin leave be included in the monthly labor report submissions?
No. Direct entry into the labor tracking tool is not needed.
What types of activities could potentially be considered for tracking?