Wireless network update: rescheduled for Tuesday, December 27
In an effort to provide maximum efficiency for wireless internet access, Information Technology Services will be updating our wireless network configuration in multiple buildings across the La Jolla campus.
Wireless networks will be interrupted in designated buildings on Tuesday, December 27, 2016 from 8:00 a.m. to 1:00 p.m.
Wired networking (using wall jacks) in these buildings will not be affected. Wireless networking in other buildings will not be affected.
Impacted buildings
Biomedical Library
Biomedical Research Building
Biomedical Research Facility II (HSBRF)
Biomedical/Basic-Sciences Building (BSB)
CALIT2/Atkinson Hall
Campus Services Complex
Canyon View Admin Area
Career Services Center
Cellular and Molecular Medicine (CMMW)
Cellular and Molecular Medicine East (CMME)
Center for Magnetic Recording Research (CMRR)
Center for Neural Circuits and Behavior (CNCB/CMG)
Center Hall
Chancellor's Complex/Office of the Chancellor
Engineering Building (EBU3B)
Engineering Building Unit 2 (EBU2)
Engineering Building Unit 1/Jacobs Hall (EBU1)
Engineering Building Unit 3 A (EBU3A)
Engineering Building Unit 3 B /Computer Science
Geisel-Library
Gilman Parking Structure
Holly, Guava, Ivy, Jacaranda, Kalmia, Laurel, Magnolia
Internal Medicine Group (IMG)-Bldgs-1-4
International Center
Keck Building/Center for FMRI
Leichtag Family Foundation
Literature Building
Matthews Admin Area
Medical Education and Telemedicine (Telemed)
Medical Teaching Facility
Music Buildng/Conrad Prebys Music Center
Pepper Canyon Hall
Peterson Hall
Powell Structural Systems Lab/High-Bay
Price Center
Science and Engineering Research Facility (SERF)
Sixth Apartments Admin
Skaggs School of Pharmacy
Stein Clinical Research Building
Structural and Materials Engineering Building (SMEB)
Student Services Center
Student-Health
University Center UC -611
University Center UC 201-202
University Center UC 301-302-303-400-401-409-965
University Center UC 413-Foodworx
Visual Arts Facility
Warren Lecture Hall
York Hall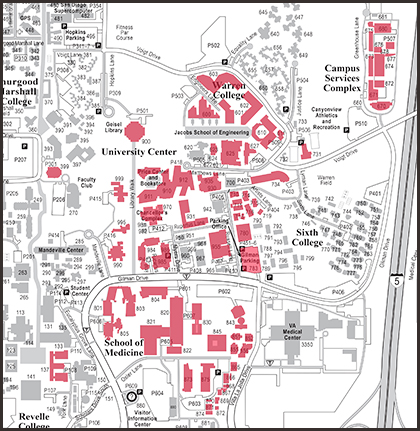 Reporting issues
If you have questions about this planned Wi-Fi interruption, please consult with your local departmental IT resource, or contact the Service Desk at servicedesk@ucsd.edu or (858) 246-4357/x6Help.