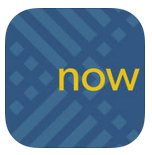 The now@ucsandiego app is now the UC San Diego Mobile App. Visit the Mobile App site for more information,
now@ucsandiego is a new location-based iOS mobile app that connects you to campus information such as real-time shuttles, news, events and weather.

The app was designed using a system of "cards," where a card is a container for a specific kind of information or functionality. This allows for easy creation of new cards that can quickly provide a wide variety of information to students, staff and faculty. Even better, the new cards don't require the user to download new versions of the app.

The now@ucsandiego app is continuously improving with new cards and functionality. Enhancements coming soon to now@ucsandiego are a version for Android, campus dining information, push notifications, and cards that provide information about key student events including Welcome Week, Commencement, and TritonDay.
Download now@ucsandiego from the iPhone App Store or Google Play