UCSD Confined Space Program
Confined space entry is strictly regulated in California. UCSD's Confined Space Program protects employees who may enter a confined space (as defined by Cal/OSHA) while performing their job duties.
Definition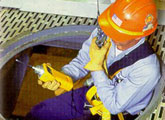 A confined space has ALL of the following characteristics:
It is large enough for an employee to enter and perform assigned work.
It has limited or restricted means for entry or exit (for example, tanks, vessels, silos, storage bins, hoppers, vaults, and pits).
It is not designed for continuous employee occupancy.
Responsibilities
Supervisors overseeing confined space work and the employees who enter or provide support to co-workers in confined spaces must:
Follow policy and procedures described in the UCSD Confined Space Program (PDF)
Attend a training class prior to work
Attend annual refresher training
Training
Learn about confined space training for UCSD employees who may encounter a confined space in the course of their work.
Forms
Resources
Regulations and policies