How to Help a Student Who Has Been Raped
How to Help a Student Who Has Been Raped
Last Updated: January 11, 2016 12:58:30 PM PST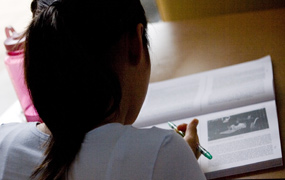 Find out how to help a student who has been sexually assaulted.

Sexual assault refers to a continuum of unwanted sexual behavior that includes everything from non-consensual kissing and fondling to forced oral, vaginal, or anal sex.
In 9 out of 10 cases, the offender is known to the student victim and may be a classmate, friend, or acquaintance.
It is estimated that during their college years, 20% to 25% of college women will be victims of an attempted or completed rape.
Only an estimated 5% of victims file a police report, possibly due to fear, embarrassment, or simply not knowing where to go for help. (Source: National Institute of Justice and Bureau of Justice Statistics.)
Whether a student was the victim of unwanted touching or experienced a forcible rape, the effects of these traumatic experiences can be emotionally devastating.
Believe the student.
Refer the student to UCSD's Center for Advocacy, Resources & Education (CARE; formerly known as SARC), (858) 534-5793, for crisis intervention and counseling.
Work with CARE and the student to meet the student's needs.
Encourage the student to seek medical attention.
Reporting the assault to the police is an option. For students who want to see the perpetrator held accountable, we recommend that the sexual assault be reported to the police immediately to preserve the most viable evidence possible.
If the student feels confused as to what next steps to take, suggest that the student contact one of the resources noted above to speak confidentially, and even anonymously, with an advocate who can explain more about her/ his options and rights.
The victim may not tell family members due to fear of being blamed or of being told to move home immediately.
Very often, the victim cannot focus or concentrate on coursework.
A student who is sexually assaulted may believe this trauma won't affect academic performance, which may delay disclosure of the assault until the student sees that her or his work is suffering.
A student may stay in denial about the rape until it is too late to make accommodations in the classroom. Even the most responsible student may skip class or work without notice.