MyTime Entry is a web-based module for time and attendance records that simplifies the job of time entry collection. Time entries by employees move quickly and accurately through the payroll process.
MyTime Entry Workflow Process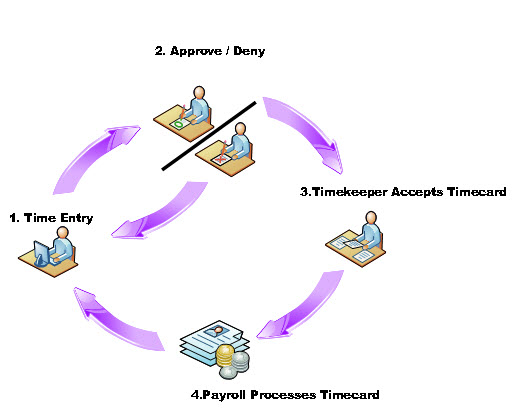 Stages and Descriptions
Employees enter time data and submit timecards online. The application totals the hours, applies rounding rules, calculates overtime and automatically notifies supervisors and/ or time approvers of time submission.
Supervisors/ time approvers review timecard entries with pre-approved records and approve or deny timecards. If timecards are approved, employees are automatically notified via email and timecards are ready for processing. If timecards are denied, employees are notified automatically to review timecards and will have re-submit them.
Timekeepers review timecards for completeness and accuracy of calculations. Timekeepers accept timecards for payroll processing.
Payroll processes accepted timecards into the Payroll Personnel System for payment.
This process is repeated for the next pay period.