Aline ADP Pay Card
Last Updated: April 7, 2020 10:54:52 AM PDT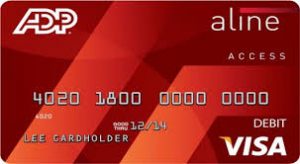 Get information about Aline ADP pay card for employees.
In support of the University's sustainability goals, payroll is providing you with a great new benefit, the ADP Aline pay card.
Benefits
Pay is automatically deposited on pay day.
Pay card is free.
Accepted by all vendors that take Visa.
'Cash Out' at convenient in-network ATMs.
Eliminates the need to go to the bank to deposit checks.
Eliminate check cashing fees.
Safer than cash.
Features
Your pay will be loaded onto the card.
Manage your money online. Access everything from your balance to your account history.
Get cash back at participating stores when making a PIN-based purchase.
One free lost/ stolen card replacement each calendar year
Get a personalized pay card after you've activated the temporary card in your pay card packet
Fill out the ALINE ADP Card enrollment Form
Send completed form to Payroll
What is the ADP Aline pay card?
The ADP Aline pay card provides you with a safe and convenient alternative to traditional paper checks. You money is direct deposited into an account at an FDIC-insured bank and can be accessed either through Allpoint ATMs or by withdrawing cash from a Visa participating bank. 
What does the pay card program cost?
There is no cost to sign-up and there are many ways to access your wages for free. Some fees may apply based on how you use your pay card. You will receive a fee schedule with your new account packet.
Will I get a new card each payday?
No. Once you are enrolled with a pay card, your pay will be automatically deposited to your card on payday. If you lose the card, give Customer Service a call at (877) 237-4321 to request a replacement. Your first replacement card per year is free.
What happens if I lose my card?
If you lose your card, contact Customer Service at (877) 237-4321 immediately so your lost card can be canceled to keep your money stays safe. When you call, you can ask that a replacement card be sent to you. Your first replacement card per year is free.
How can I check my balance?
Withdraw funds from your ALINE Card without incurring a fee ($0) in the following ways:
Unlimited over the-counter bank teller withdrawals at any Visa Member Bank.
ATM withdrawal-in network. Log in to mycard.adp.com to search for in-network Allpoint ATMs.
Cash back with point-of-sale transactions at participating retail locations (PIN code only).
For more details refer to your ALINE Card Fee Schedule (PDF)
Questions?
Customer Support Team: (858) 534-3247 
ADP customer service: (877) 237-4321
Visa fraud department: (800) 847-2911