Video is Stuck "Processing"
Video is Stuck "Processing"
Last Updated: September 30, 2021 9:13:21 AM PDT
What to do when your video in Canvas is stuck in a processing state.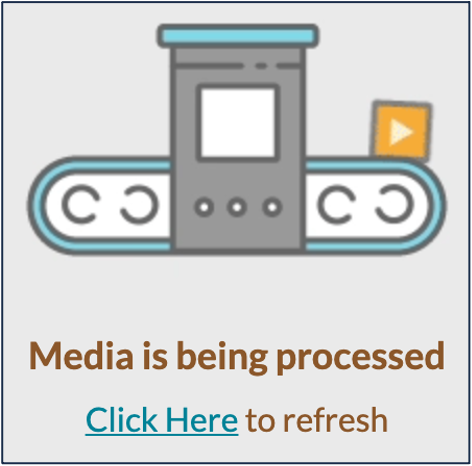 Problem: You've added a video to "My Media" and the icon representing the video is stuck in the "processing" animation. As a result, you're not able to make desired edits, publish it, or watch it.
Solutions
Wait longer
Re-upload

For manually-uploaded media: try again
For Kaltura Capture videos: re-upload the video using the application interface
For Zoom cloud recordings: download it from Zoom and upload it to Kaltura manually
The first thing you should do is wait - if you haven't waited very long, that is. The processing time for videos uploaded to Kaltura can vary widely, and processing times depend on the length, quality, and size of your video.
If you've already waited for a while (for example, overnight), or you're particularly desperate to get the video up quickly, then we recommend trying to (re)upload the media again if you can. See the drawers below for more information.
You may know that we have an integration set up between Kaltura and Zoom such that all Zoom recordings made to the cloud (when signed into Zoom with your UCSD active directory credentials) will automatically show up in "My Media" after a little while. If you find that one of these recordings is stuck processing, try downloading the recording file from Zoom and uploading it manually.
If you need additional help figuring out how to resolve the issue, or if the video you originally uploaded never stops processing and you want it removed from "My Media," please contact us at kaltura@ucsd.edu.