Alternatives to Kaltura
Last Updated: February 22, 2023 11:10:00 AM PST
Sometimes it can be handy to have a backup or alternatives for producing, storing, and delivering your videos for a variety of reasons. Here are some ideas on other ways to store and/or deliver your videos.
Problem: You want to know some alternatives to using Kaltura to capture and/or store your videos. While Kaltura is free to use and provides unlimited media storage for all UCSD community users, there's no requirement to use it. In this troubleshooting article we'll provide some suggestions for alternatives, based on whether you need different ways to record, present, or store media.
Solution
Check out the table below for a summary of advantages and disadvantages for recording, presenting, and storing media when not using Kaltura. Open the drawers to learn more.
Advantages and Disadvantages to Kaltura Alternatives
Option
Advantages
Disadvantages
Record via Smartphone/Tablet

Have to use KMS GO to upload to Kalturaor manually transfer to computer to upload
Tricky to do screen capture as well without paid software
Have to hold device or mount it

Record via Zoom

Easy to use
Cloud recordings end up in "My Media" automatically
More capture options than Kaltura Capture

Cloud recordings are lower quality than local recordings
Ideal recording settings take some time to tweak

Record via PowerPoint

Great for voiceover PowerPoint instruction

Record via Mac screen capture

No camera capture
No quality settings
Mac only

YouTube

Free, unlimited uploads (for registered accounts)
Can be easily embedded into Canvas
Clips you own can be edited within YouTube Studio
YouTube clips can also be added to "My Media" (Kaltura)

Limited privacy options
Can only download one video at a time once uploaded

Google Drive

Unlimited storage
Easily shared
Google Drive app allows for local access

Not intended for video viewing - only storage
Not available to all UCSD community members

Embed using "Record/Upload Media"

Unlimited storage
Option is available in the rich content editor

Files embedded this way can't be downloaded
Requires the creation of a page in Canvas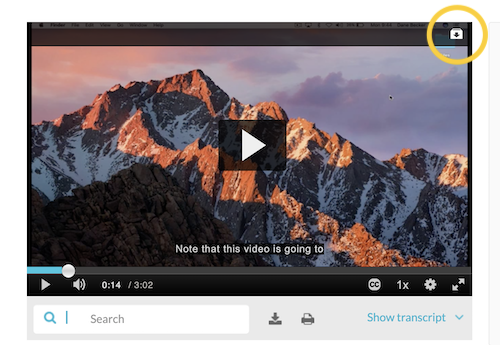 If you're the owner of a video (that is, you created or added it to "My Media") you're able to download it from Kaltura. Here's how.
Within Canvas, click "My Media" in the left navigation.
Find the video you want to download and click the pencil icon on its row.
At the top right corner of the video player, you should see a small icon with a downward arrow. Click it and the video will download to your computer.
The In-Player Download Button
This button is only available to media owners and co-editors. You can only download videos that you've added yourself or for which you're a "co-editor."
The button is only available on the page where you can edit your video. When you click on the pencil link for a video in "My Media," that page is the one that allows you to edit all the details of your video - its title, description, collaborators, etc. This is the only place where you can download your video using an in-player download button.
The video that downloads will be the highest quality version available - the original or "source" video. For longer videos, that means that the file sizes might be quite large.
YouTube videos can't be downloaded.
Given a laptop or a smartphone, there are a variety of ways to record yourself for free. When it comes to capturing your screen along with your video, though, there are fewer free options, and many depend on what sort of equipment and software licenses that are available to you. So note that not all of these options may be available to you.
Smartphone/Tablet
Many of us carry a powerful camera in our pocket every day or have access to tablet computers with built-in cameras. If you just intend to capture video, a smartphone or tablet selfie recording can work in a pinch, and you can increase the quality by getting a simple mount or stand so you don't have to hold it.
In addition, Kaltura offers an app called "KMS GO" that allows you to record videos and upload them easily to "My Media." Check out the KMS GO online documentation that they've provided. (Note that when prompted, the URL you'll want to use for our instance of Kaltura is https://mediaspace.ucsd.edu.) You can record videos using the app, or just upload videos that are already on your phone.
Note as well that many of these kinds of devices have the ability to record their screens now, though they often don't support recording audio at the same time (or your own camera).
Mac/PC: Zoom
It may be obvious, but it's worth at least mentioning that Zoom provides the ability to record sessions. If UCSD users elect to record to the cloud, recordings will automatically end up both in Zoom's cloud storage (where they'll be stored for 30 days) as well as in Kaltura (where they'll remain indefinitely in the user's "My Media" section in Canvas or MediaSpace).
Users can also record Zoom sessions onto their computers, which allows for slightly higher quality than cloud recordings, if configured properly. Zoom also allows users to capture peripheral devices, such as an iPad.
Mac/PC: PowerPoint
If you don't need to capture your camera, PowerPoint has a built-in feature to record narrated presentations and export them as a movie.
Mac: Built-in Video Screen Capture Function
If you're a longtime Mac user, you're probably aware of the screenshot shortcuts: Command-Shift-3 to capture the entirety of your screen(s) and Command-Shift-4 to select a screen area. But did you also know that you also have a way to do a narrated screen capture video?
If you hold down Command-Shift-5 on your keyboard, a menu will appear at the bottom of your screen that provides options for a screen recording, including microphone options. Handy! Do note that you can't capture your computer audio, however.
YouTube is a tried-and-true video delivery service owned by Google.
Notes on Uploading Course Videos to YouTube
In order to upload videos that are longer than 15 minutes, you'll have to verify the email address associated with your account. A link to instructions is included below.
YouTube has three main privacy levels: public, unlisted, and private. "Unlisted" is probably the option you want to use. It means that users can't go to YouTube and search/find your video, nor will they be able to see it in your channel. Anyone who is sent a link to it, however, can view it.
If necessary, create a YouTube account affiliated with your UCSD email address by following these instructions: https://support.google.com/youtube/answer/161805.
If you're uploading videos that will be longer than 15 minutes, you'll need to verify your account: http://youtube.com/verify.
Now you can begin uploading videos: https://support.google.com/youtube/answer/57407.
If you'd like to use the YouTube's editor to trim the video, follow these steps: https://support.google.com/youtube/answer/9057455?hl=en. Note that you must be the owner of the video in order to edit it.
You can store your video files on Google Drive, but it shouldn't be used for video playback. 
Notes on Storing Videos on Google Drive
Google generally doesn't like it when users use Google Drive for watching videos online, so this should only be used for storing videos and offering them up for download. If students start streaming the videos from your Drive folder, you may get notified by Google that your shared folder has been un-shared.
Regulations prevent UCSD community members from Health Sciences from using Google Drive.
Read documentation on Google Drive for UCSD community members.
If you have video files on your computer, you can "get around" Kaltura by using a button in the rich content editor labeled "Record/Upload Media." You will need to have a "page" created in one of your modules in Canvas in order to do this.
Within Canvas, enter the course in which you need to embed the video.
Find the module in which you want to embed it and create a "page" course element if necessary.
Click on the page's title.
Click the "Edit" button.
In the rich content editor, click on the "Record/Upload Media" button. (It looks like a play button

and a musical note

.)

In the window that opens, click on the "Upload Media" tab.
Click "Select Video File." 
Locate your video file and click open or save. The video will upload for a little bit - wait for it to complete before doing anything.
Be sure to click "Save" when you're done.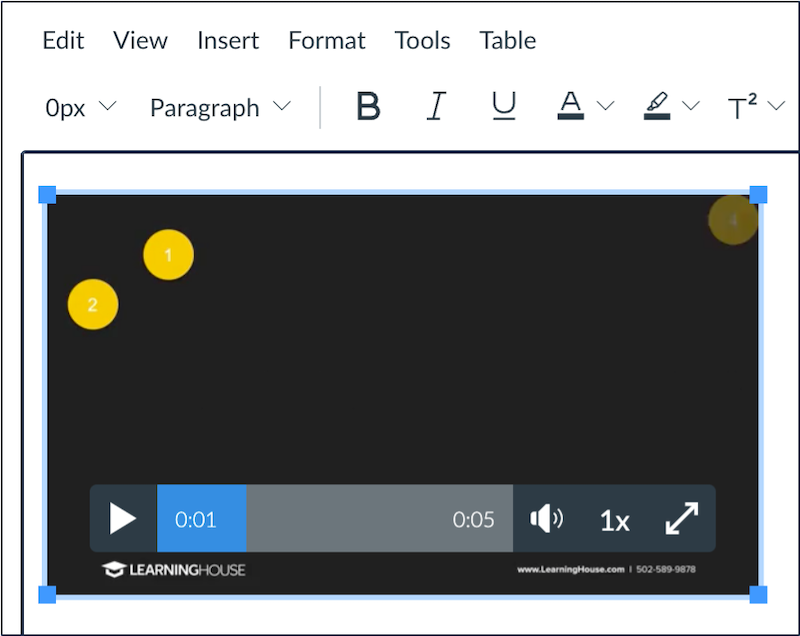 Once the video is done uploading, it'll appear in the editor and will be playable.