How to Edit a Kaltura Media Playlist in Canvas
How to Edit a Kaltura Media Playlist in Canvas
Last Updated: June 1, 2023 1:20:04 PM PDT
Here's how to edit an existing Kaltura media playlist in Canvas.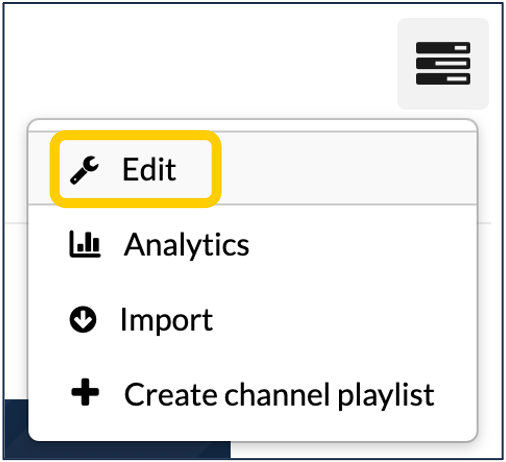 If you decide to add or remove videos from an existing playlist, it's easy - if you know where to go.
Within Canvas, enter the course where you created the playlist you want to edit.
Click on "Media Gallery" in the left navigation.
At the top right of the Media Gallery page, click the "Channel Actions" icon (three horizontal lines) and select "Edit" from the menu that appears.
Select the tab for "Playlists" at the top.
In the row of the playlist that you want to edit, click the pencil icon in the "Actions" column.

Once on the "Edit Playlist" page, the options are identical to what you can do when creating a playlist, such as:
Changing the title of the playlist
Adding, editing, or removing the description
Adding, editing, or removing tags
Adding or removing media from the playlist
Changing the order of media in the playlist
When you're done making edits to your playlist, be sure to click the "Save" button at the top right of the page.