How to Delete a Kaltura Media Playlist in Canvas
How to Delete a Kaltura Media Playlist in Canvas
Last Updated: January 30, 2023 11:16:33 AM PST
Here's how to delete a Kaltura media playlist from a course in Canvas.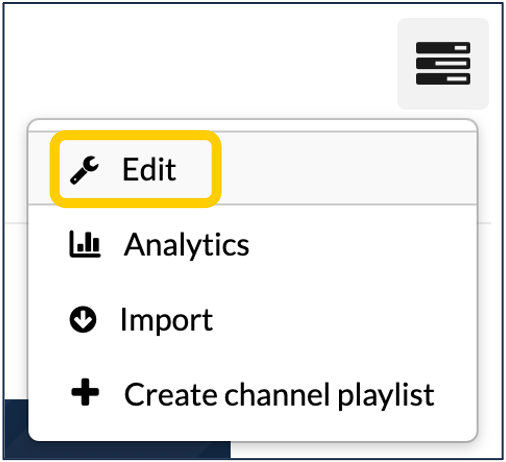 If you've created a playlist, it's immediately visible to students in the course's Media Gallery. There's no additional step to publish it, like you would with a video. Accordingly, there's no way to "hide" a playlist from students, or create it in advance before you want them to see it. The only way to remove students' access to a playlist is to delete it. Here's how to do that.
Within Canvas, enter the course that contains the playlist you want to delete.
Click "Media Gallery" in the left navigation.
Click the icon represented by three horizontal lines in the upper right corner of the page ("channel actions") and select "Edit."
Click the "Playlists" tab near the top of the page.
Click the trashcan icon in the row of the playlist you want to delete.

Click "Delete" to confirm that you want to delete the playlist.