In-Video Quizzes
Last Updated: October 22, 2021 3:08:50 PM PDT
You can create video quiz questions in Canvas that pop up during a video. Here's how.
Kaltura allows you to add quiz questions within a video. When a student watches the video and reaches a spot where you've inserted a question, the video will pause and the user will be prompted to answer it. There are several ways you can configure video quizzes, and this article will cover how to make a video quiz and what all the settings mean.
What to Know About In-Video Quizzes
Here are some things to know about in-video quizzes, or "IVQs" for short:
Four question types. There are four kinds of questions you can pose: true/false, multiple choice, short answer, and reflection prompts.
Transcripts are disabled by default. To promote academic integrity, the default player for IVQs does not display the transcript widget, though captions will be available. Note that you can enable a transcript widget for an in-video quiz if you're embedding it.
A new video entry is created. Whenever you add quiz questions to a video, saving the changes will create a new version of the video. This is probably a good thing so the original video always remains intact, but you should be aware.
They can be embedded or published. That said, you should not publish AND embed an in-video quiz, to reduce confusion.
We recommend against integrating them with the gradebook. It's possible to integrate your IVQs with the gradebook (and we include instructions on how to do so below), but given the number of issues we've observed, we recommend against it.
They're best used for formative assessment. The way that Kaltura displays student responses to questions - either within Canvas or with files they offer for download - are not particularly helpful if you wanted to grade them yourself. Think about IVQs as a way to promote attention and engagement.
Why You Might Want to Create an In-Video Quiz
Research indicates that adding interactivity to videos promotes retention and engagement
You want to add additional formative assessments to your course
You want to restart students' "attention clocks" within longer videos
You want to encourage reflection
Prerequisites
A video in "My Media" that you own (or for which you are a co-editor) OR a YouTube video within "My Media"
Caveats
All in-video quizzes will generate a copy of the original video
In-video quizzes aren't integrated with the gradebook by default
For-credit in-video quizzes that are integrated with the gradebook are not recommended (see the appropriate drawer below)
There are only 4 question types: true/false, multiple choice, open-ended, and reflection prompts
Only true/false and multiple choices questions can be included in the gradebook as auto-graded questions
Open-ended questions are excluded and are not included in the point distribution, making it cumbersome to grade in-video quizzes with open-ended questions (if integrated with the gradebook)
Students' responses don't show up in SpeedGrader if integrated with the gradebook
Kaltura doesn't display students' responses in a way that's easy to work with
The downloadable format of students' responses are not particularly helpful when attempting to grade in-video quizzes manually
Some browser plugins or system software may interfere with quiz completion for some students
In-video quizzes are not accessible
There are three main tasks when creating an in-video quiz:
Enter the quiz editor
Configure your quiz settings
Add your quiz questions
Enter the Quiz Editor
Within Canvas click "My Media" in the left navigation.
Locate the video that you want to use for a video quiz and click the pencil icon on its row.
Click on "Launch Editor" to the right of the video preview. You'll be brought to the video editor.
Click on the cube-like quiz icon on the top left side of the video editor window.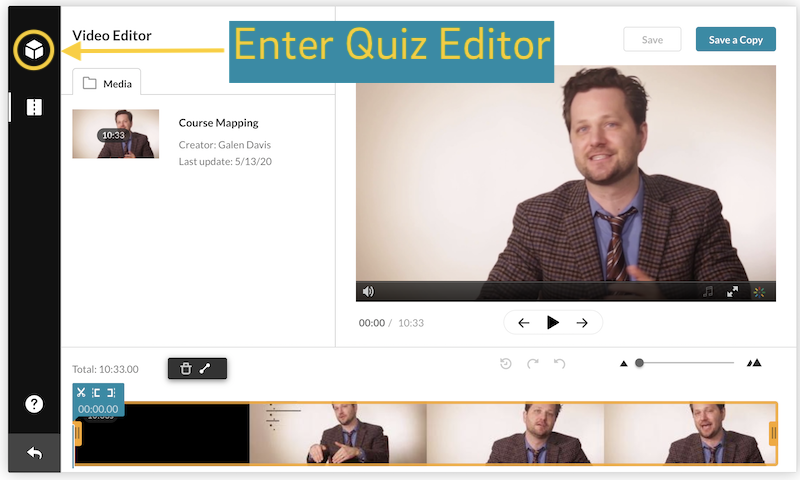 Click "Start."
You can now begin to insert questions and configure your quiz.
Configure Your Quiz Settings
Before adding any questions, you should configure your quiz settings. You can configure each setting below by clicking the triangle next to each one to expand its contents.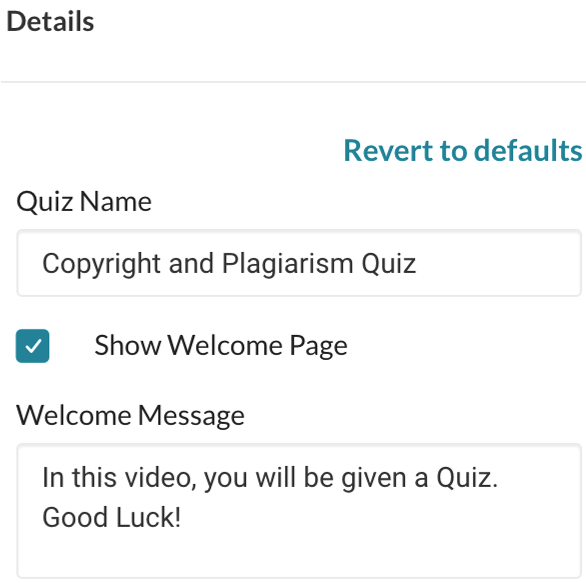 Details
Quiz Name will be the name of the video entry in "My Media." (When you create a quiz, a new copy of the video is created automatically, so you'll definitely want to distinguish the title of the video from its quiz counterpart.)
Show Welcome Message lets you choose whether you want the students to see a screen when they start playing the video that includes your welcome message.
Welcome Message refers to the message that students will see once they elect to play the video. The default message is "In this video, you will be given a Quiz. Good Luck!" Editing the text will change this message.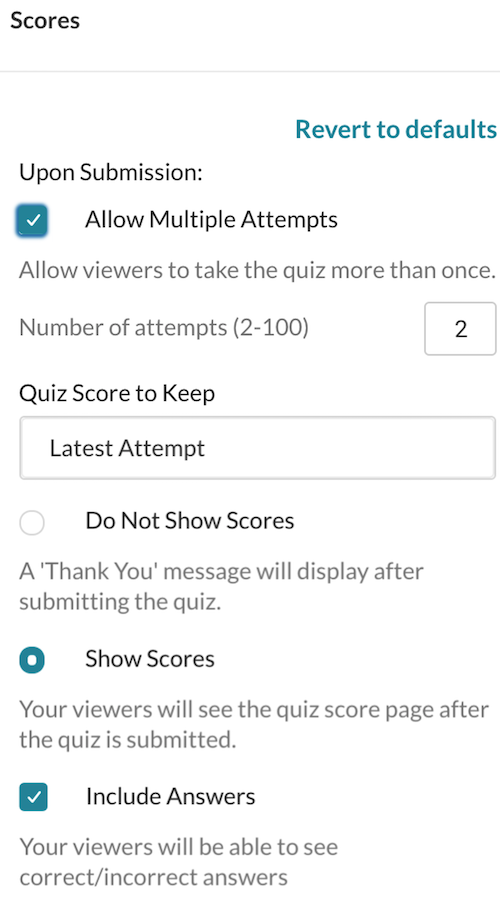 Scores
Allow multiple attempts lets your students have another go at the questions if they want.
Number of attempts will only appear if you check "allow multiple attempts." In this field you can enter a number from 2-100. Remember that there's a similar Canvas setting for an assignment - try to make sure these two numbers match!
Show scores / do not show scores is about whether your students will see their score at the end of the video. If you elect to not show their scores, as the text below the option indicates, your students will just see a thank you message.
Include answers lets your students see the correct and incorrect answers when they're done.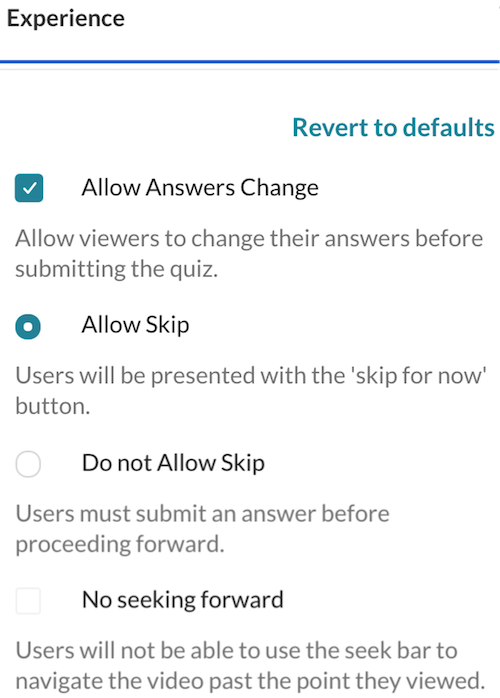 Experience
Allow answers change lets users review their answers and change them before they submit the quiz.
Allow skip / do not allow skip determines whether students have the ability to skip questions and allow the video to continue without answering them.
No seeking forward is only selectable if you've selected "do not allow skip." If enabled, it won't allow students to advance the video beyond where they've watched it so far.
Insert Your Questions
After you've identified the overall settings for your video quiz, it's time to add the actual questions into the quiz. There are four types of questions you can insert.
Question Types
Multiple choice questions ask students to select an answer from up to 4 choices (including the correct answer).
True or false questions are, well, true or false questions.
Reflection points pause the video and pose the prompt you enter, but don't require the student to enter any information.
Open-ended questions are just short answer questions asking students to enter text as their response. Just like short answer questions in other types of electronic assessments, these can't be auto-graded. Students can write up to 270-character responses.
Use the timeline at the bottom of the Quiz Editor window to find the point where you want to ask your students a question. Alternatively, you can just watch your video by pressing the play button.
Click the "Add a Question" button within the video preview.
Click on the question type you want to use.
Enter your question details on the following screen.
When you're done, click "Save."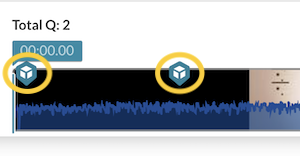 After you insert the question, you should see a small blue cube icon appear in the timeline at the bottom of the window. If you want to go back and edit one of the questions you set up, just click that question's icon.
Add all your other questions at the points you want.
When you're finished adding all the questions you want, click "Done" at the top right of the Editor.
Remember that when you create a video quiz, another copy of the quiz ends up in "My Media" - you should always maintain an original copy of the video without any quiz questions.
As with any other piece of media, you can either embed your video quiz in a piece of instructional material (e.g. a page) or you can publish it to the Media Gallery, so there are no specific instructions necessary here. If you intend to integrate the quiz into the gradebook (which we do not recommend), however, read the drawer below.
Tip: Either Embed OR Publish
We strongly recommend that you either publish your in-video quiz or embed it - not both. Given that this is an assessment with a variety of configuration settings - including the number of attempts - allowing students to submit questions in multiple locations may cause problems.
We recommend that you embed the in-video quiz on a page, since including all of your instructional materials within the module structure is generally a best practice - particularly when it comes to assessments. If you like using the Media Gallery as well, however, we recommend you just publish the original video (the one without the quiz questions).
Adding in-video quiz questions to an entry in "My Media" won't add the quiz to the gradebook by itself. Instead, you need to create an assignment with specific settings after you've added the quiz questions.
We Recommend Against Gradebook Integration
While this section contains instructions on how to integrate an in-video quiz with the gradebook, generally speaking, we advise against it. We've observed enough inconsistencies in how in-video quizzes report scores to the gradebook that you should not feel comfortable relying on them to accurately reflect students' performance. In-video quizzes are best used for formative checks for understanding or to promote video engagement.
If nonetheless you do wish to integrate your in-video quiz with the gradebook, avoid including open-ended questions in a video quiz that you intend to grade along with any auto-graded questions.
This is for two main reasons:
The points you assign to a video quiz assignment are automatically distributed evenly only among the auto-graded questions (multiple choice and true/false). Accordingly, this means that you have to manually grade all video quizzes that contain open-ended questions from scratch.
Student responses do not display in SpeedGrader, compelling you to have two windows open side-by-side on your monitor in order to grade as efficiently as possible.
If you want to quiz students on video content for credit, a better approach is to create a "quiz" course element and embed a video at the top of it using the rich content editor.
If you still feel strongly about integrating an in-video quiz with the gradebook even after this warning, follow the instructions below.
Follow the instructions in the drawer above to configure the in-video quiz and add questions.
Enter your course and locate the module in which you want to insert the assignment.
Click the "plus" icon on the row with the module's title.
Create a new assignment. After doing so, you should be brought back to the main page listing your modules.
Click on the new assignment and then click the "Edit" button in the upper right corner of the screen.
In the assignment settings, scroll down to the pull-down menu next to "Submission Type" and select "External Tool" from the list.
In the box that appears below, click "Find."
Scroll down and select "Kaltura Video Quiz" from the list of tools.
You'll be brought to a list of all the video quizzes that you've created. Select the video quiz you want to use and click "Embed" in its row.
After a moment, click "Select" back in the "Configure External Tool" window. Note that at this point you may not see your video in the rich text editor, but you will once you preview the quiz.
Set the rest of your assignment parameters, such as point value and due dates. Ensure that the number of attempts you allow matches with the setting you've set within the in-video quiz configuration. When you're done, click "Save" or "Save and Publish," depending on your preference.
Students' responses to your Kaltura Video Quiz are not in the gradebook. Here's how to find them.
Within Canvas, click on "My Media" in the left navigation.
Locate the Kaltura Video Quiz that you created, and click on the analytics icon on its row (which looks like a bar graph).
Once here, there are two different ways you can look at students' submissions: by question (the "Quiz Questions" tab) or by student (the "Quiz Users" tab). While the latter may be an approach to which you're more accustomed, you may find students' responses slightly more legible by looking at the former.
The Quiz Questions Tab
The "Quiz Questions" tab shows a list of all the questions you created in your Kaltura Video Quiz. If you click any of the questions, you'll see all the responses to the question, sorted by students' first names. You can download student responses to each question within each question's section as a CSV file, which you can open with Microsoft Excel. Green or red thumbs-up and thumbs-down icons allow for easy scanning to which students answered correctly or incorrectly.
Export to CSV: Quiz Questions
The "Export to CSV" button at the top of the "quiz questions" tab downloads a document to your computer that lists each question, how many students answered it correctly or incorrectly, and the total percentage of correct answers. The way to see students' answers to the individual questions is to download the CSV within each question's section.
The Quiz Users Tab
The "Quiz Users" tab presents a list of all the students who took the quiz. Clicking on any of the names will reveal both the question asked as well as the student's answer. Green or red thumbs-up and thumbs-down icons allow for easy scanning to see whether students answered correctly or incorrectly.
Export to CSV: Quiz Users
The "Export to CSV" button at the top of the "quiz users" tab downloads a document to your computer that lists each student, whether they got the particular question correct, and their specific response. To see all responses from a student, download the CSV within their individual section.
Can you re-use an in-video quiz?
Answer: Yes, but you have to duplicate it if you want to differentiate students' submissions.
If you were to publish or embed an in-video quiz into a different course after students have already submitted answers to it, you would see ALL the students' responses in the analytics (from both courses). Accordingly, if you want to isolate students' responses by term, you should duplicate the quiz. 
In Canvas, enter any of your courses and click "My Media" in the left navigation.
Find the quiz in your list of media, and click the pencil icon on its row.
Click "Launch Editor."
Make sure you're in either part of the editor where you can make cuts - not where you edit quiz questions. (You may need to click the icon that looks like a parallelogram.) Click "Save a new copy."
This will create a new copy of the quiz and will take some time to process, but once it's done the analytics will be devoid of responses.