Downloading Your Own Videos
Downloading Your Own Videos
Last Updated: August 23, 2021 4:34:42 PM PDT

Here's how to download your Kaltura videos from Canvas.

When you add a video to "My Media," it's stored in the cloud. But sometimes, you might want that video file, for a variety of reasons. Luckily, as long as you're the owner or a co-editor of a piece of media, you can download the original quality version of the video (which Kaltura calls the "source") by just finding the right icon within the player where you edit videos. Because you can only see this icon on the so-called "edit page," students aren't able to download your video using this method. The only way they can download it is if you make them co-editors or if you've enabled downloads for your video.
Why You Might Want to Download Your Own Videos
You want a copy of your video on your computer
You want to put your video into a different video delivery service (e.g. YouTube)
You've received an alert that your video hasn't been watched in 4 years and you want to download it before it's deleted permanently
Prerequisites
A piece of media for which you are the owner or a co-editor
Caveats
You can only download the source (maximum quality) version of the file using this method (no lower-quality flavors)
If the video is a Kaltura Capture recording in which you captured your camera, microphone, and screen, the downloaded video will only contain the screen and voiceover audio (no camera)
Anyone to whom you've given co-editor privileges can download your video
If you're an owner or co-editor of a piece of media, it's quite easy to download a copy of your videos.
Within Canvas, enter any of your courses and click on "My Media" in the left navigation that appears.
Find the video in question in your list of media and click the pencil icon in its row.
On the subsequent page you should see a small icon in the upper right corner of the video player with a downward arrow. Click it and the source video will download to your computer.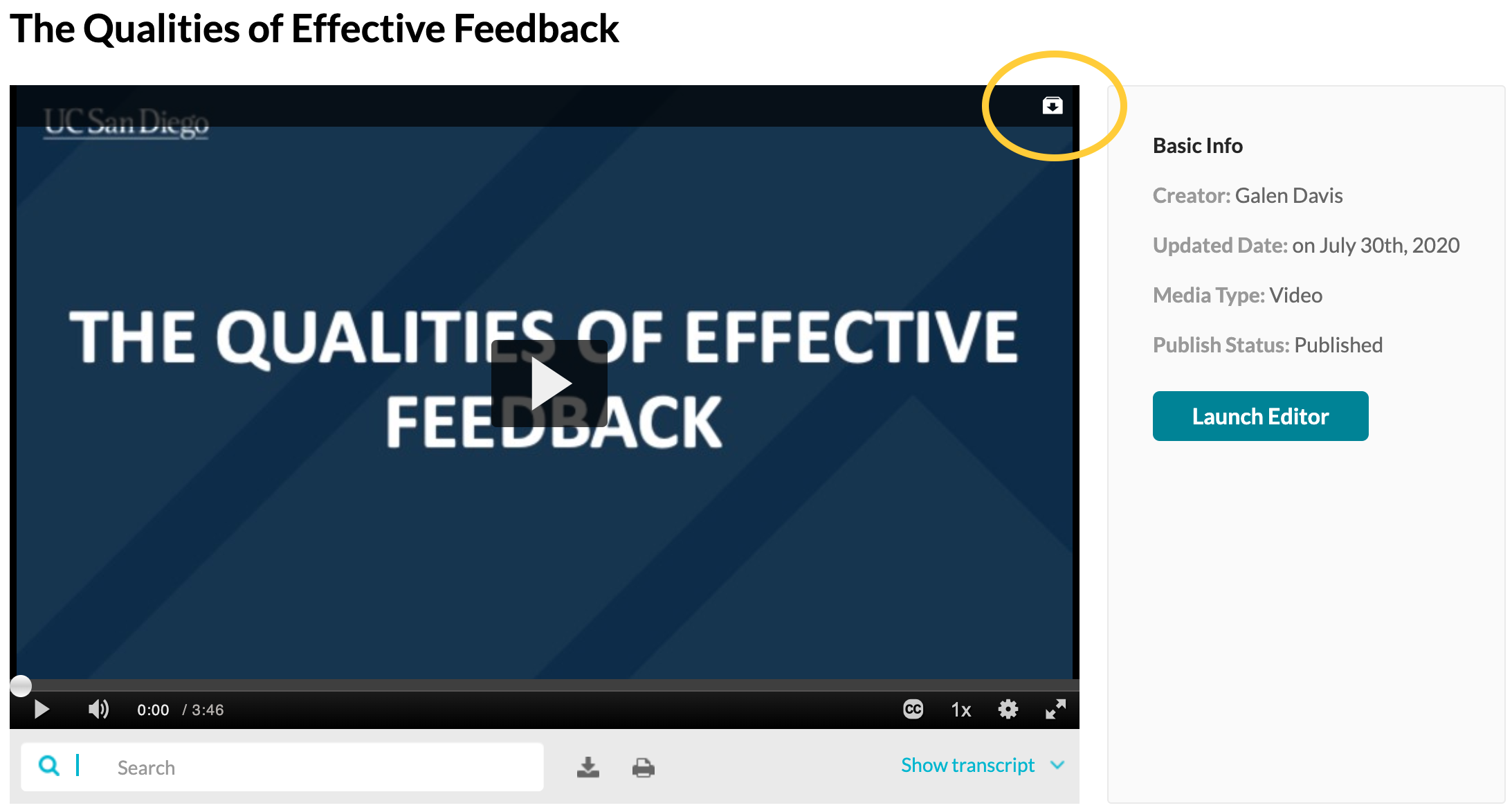 Use the list below to jump to the answers.
I downloaded the video, but the file that was downloaded doesn't have a file extension. What do I do?
Answer: Add ".mp4" to the end of the filename.
This used to happen with Zoom recordings, though Kaltura claimed to have resolved this in early 2021. If your video file doesn't end up with a file extension when it's done downloading, just opt to rename the file and add .mp4 to the end of it. The video should now play properly.
I made a Kaltura Capture recording, but I can only download the screen/audio streams. How do I get my camera stream?
Answer: You can download your camera/audio stream separately, but at present it's a bit tricky.
If you're looking for a video file that imitates the stream selection functionality of the in-browser Kaltura player when you play it on your computer, you're out of luck. But if you just want to download the stream you got from your camera, you can either locate the files on your computer or, if you no longer have the files on your computer, do a bit of a tricky workaround.
Solution 1: locate the files on your computer. Remember that Kaltura Capture records video files to your computer before uploading them to their servers, and they aren't deleted unless you choose to do so. If you want to locate your Kaltura Capture recording files, check out our documentation on how to locate your Kaltura Capture recording files on your computer.
Solution 2: follow Kaltura's instructions on how to download a multi-stream video:
https://knowledge.kaltura.com/help/how-to-download-a-multi-stream-video.
Note that Kaltura acknowledges that this is a limitation of their web application.