Requesting Machine Captions
Last Updated: May 30, 2023 4:11:05 PM PDT
Here's how to manually request machine captions for a Kaltura entry within Canvas.
All videos added to Kaltura ("My Media") after 13 June 2020 will automatically have machine captions requested and added to the entry. It's likely you'll only need to follow the instructions in this section if you:
need captions for a video added to Kaltura before the date above
would rather not use Zoom's captions (for entries that come from our Kaltura-Zoom integration)
need new captions after replacing a video's source file
Instructions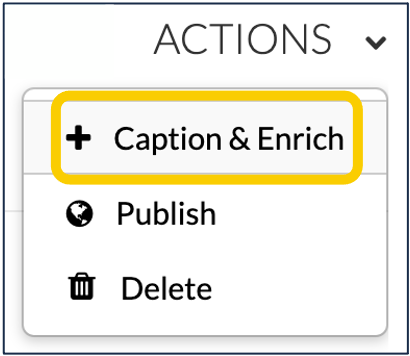 Within Canvas, click "My Media" in the left navigation.
Locate the video to which you want to add captions, and click the checkbox on the left side of that video's row (just to the left of the video thumbnail).
Scroll to the top of the screen and click Actions, and select "Caption & Enrich."
On the screen that appears, ensure that the following settings are selected:

Service: Machine
Source Media Language: English
Feature: Captions

Click "Submit." You'll see a notation with a blue background at the top of the screen that confirms that your request for captions has been received.
You won't receive any confirmation after submitting that your captions have been completed and added, but you CAN tell by clicking on the video within "My Media" and looking at the preview of the video. If your captions have been added, you'll see a small "CC" icon in the play bar at the bottom of the video preview.

Another important thing to mention is that after adding captions to a video, an expandable box will now be below the video (at least when played in "My Media" or the Media Gallery), allowing students to view and download the transcript of the video as it plays. When the video is playing, the transcript will also highlight the text being spoken.