Editing Captions in Kaltura's Web-Based Closed Caption Editor
Editing Captions in Kaltura's Web-Based Closed Caption Editor
Last Updated: May 30, 2023 2:34:44 PM PDT
Here's how to use Kaltura's web-based closed caption editor.
You can edit your captions within Canvas by using Kaltura's Closed Caption Editor.
Within Canvas, click "My Media" in the left navigation.
Locate the video whose captions you want to edit, and click the pencil icon in its row.
Click the "Captions" tab below the video preview.
Click "Edit Captions." You'll be brought to the Closed Caption Editor.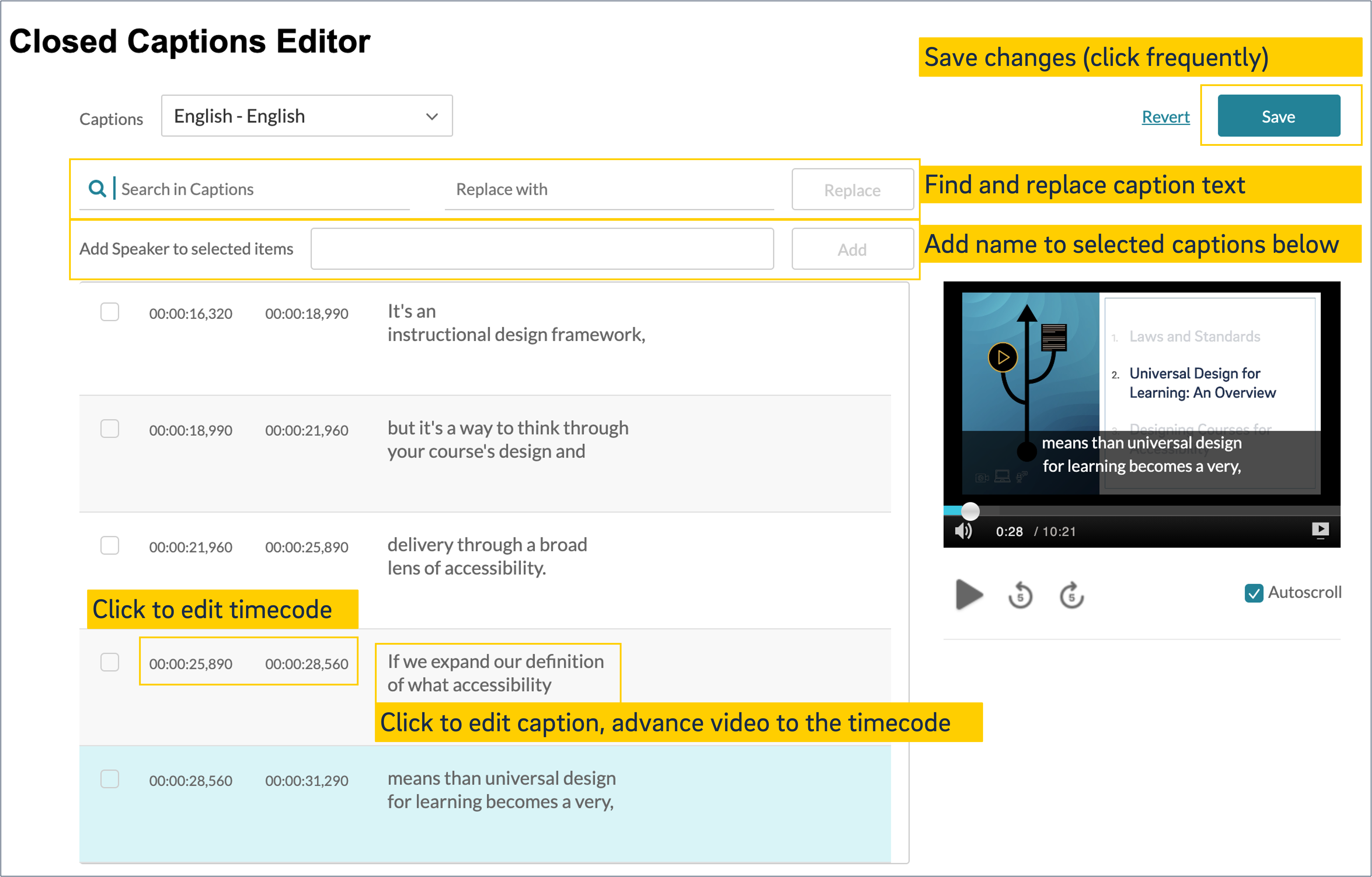 Below are the actions you can perform in the editor:
Editing text: Click on any row within the editor to edit the caption text. When a row is clicked on, the video preview on the right side of the screen will jump to that part of the video. If you play the video preview, the captions will scroll automatically (unless you un-check the checkbox for "autoscroll").
Editing timecodes: If you wish, you can click on either a start or end timecode to edit it, which changes when the particular caption is displayed onscreen. (Generally speaking, this is generally not recommended due to the risk of overlapping timecodes.)
Adding speaker names: Particularly if you have multiple speakers, it can help some viewers by identifying them in the captions. You have the option of adding a speaker's name to the beginning of a caption line by clicking the checkbox next to a caption's row and entering their name in in the field labeled "Add speaker to selected items."
Finding and replacing words: Use the field next to the magnifying glass to find terms in your captions, and use the "replace with" field to replace all instances of that word with what you enter. This feature can save you some time if you use complex terminology, acronyms, proper nouns, or any other spoken words that the machine captioning system is repeatedly getting wrong.
Note that the >> symbol indicates that the system has detected a new speaker. Be sure to delete it if the speaker hasn't changed or to add it if the speaker has changed.
When you're done making your edits, be sure to click the "Save" button at the top right of the screen.
Confirm that you want to save by clicking "Yes." Any changes you made will be visible immediately in the player.
Click "Back" at the top of the screen.
Click "Captions" below the video preview.
On the line with the captions you just edited, click the pencil icon.
While you're welcome to edit the language and accuracy percentage, be sure to change the "label" of the video so that "auto-generated" is not part of it. (That is, you should make clear to your viewers that the captions have been edited for accuracy.) Appending "(edited)" should suffice.
Tip: Save Frequently
Save your work frequently in the Closed Caption Editor. Your session may time out, and unless you've saved your edits, they may be lost.