How to Upload a Media File to Canvas
How to Upload a Media File to Canvas
Last Updated: September 12, 2022 11:25:59 AM PDT
Have a media file that you want to upload to Canvas? Read below.
Uploading media to Kaltura in Canvas is pretty easy, and your files are safely stored there in perpetuity. (However, if your media isn't viewed for 4 years, it will be deleted, though you'll be alerted before that occurs.) Once in "My Media," you can use them for a variety of purposes, as we discuss in various other tutorials.
What to Know About Uploading Files to Canvas
Storage limits: none. You can upload and store as much as you want.
File size limits: none. You can upload gigantic files, though it may take a while.
File type support: Kaltura supports a wide variety of media formats ("all common video, audio and image formats in all resolutions," according to Kaltura).
Multimedia support: you can upload images and audio-only files as well. The Kaltura player also supports 360 videos!
Quality levels: after a file is added to "My Media," Kaltura will generate multiple quality levels for that file behind the scenes (which they call "flavors"). Viewers can select a quality level manually if they wish.
Machine captions: regardless of how they come into Kaltura, all media added to Kaltura after 13 June 2020 will have machine captions added, typically within about 30 minutes after the file is done processing. These captions are about 70% accurate.
Instructions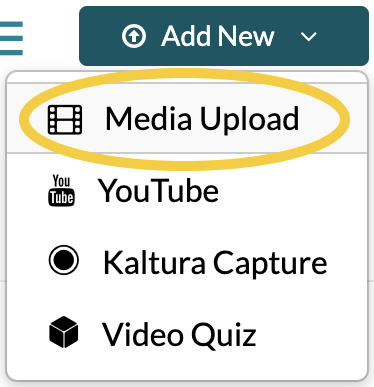 Within Canvas, click on "My Media" on the left side of the screen.
Click the "Add New" button near the top right of the screen, and select "Media Upload."
On the subsequent page, either drag and drop the video you want to upload or click "Choose a file to upload" and locate the file you want to upload.
Enter or change the title of your video during or after your file upload. "Description" and "tags" are optional.
Tip: consider adding tags. Within "My Media," Kaltura doesn't offer a folder-like organizational system. Instead, they offer "search and filter" functionality, like you may have seen in the GMail web application. For this reason, taking a moment to add a few tags to your video can be really helpful, particularly when your list of media in "My Media" is very long.
So consider developing a tagging system that will enable you in the future to easily find your media. For example, you might tag a video with english101 and fall2020 to make it easier to find later.
On this upload page, you can also elect to publish the video immediately to one of your courses. By default, however, your video will be private to you.
Click "Save."
Your video will now be in "My Media." It may take some to process before it's ready to be viewed or until it's visible in a media gallery