Types of Videos You Can Add to Your Course
Types of Videos You Can Add to Your Course
Last Updated: August 25, 2021 10:24:12 AM PDT
Before you learn about how to add videos to Canvas, it's important to understand what kinds of video can be uploaded or inserted into your courses.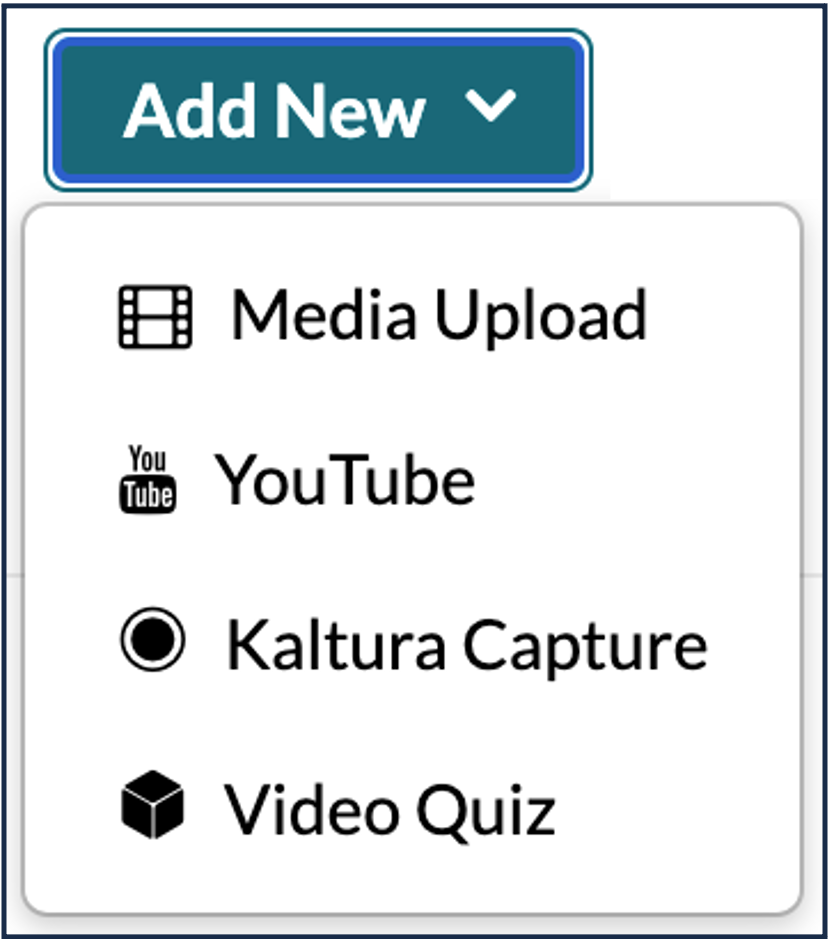 There are four main categories of videos in Canvas:
Manually-uploaded videos that you've uploaded from your computer
YouTube videos whose URL you paste in
Kaltura Capture videos that you've recorded using the Kaltura Capture desktop application
Zoom cloud recordings that automatically end up in "My Media" thanks to a Zoom-Kaltura integration
Though there are a variety of ways of getting videos into your Canvas course, we recommend leveraging the "My Media" section of Canvas, so you can take advantage of Kaltura's features.
While you can also upload videos into the "Files" area in Canvas, we don't recommend this due to the limited disk space available to your course. This 4.3 GB limit cannot be increased. But when you add videos to "My Media," you're not subject to any file size or storage limits. In addition, videos within "My Media" can take advantage of a variety of Kaltura features, such as re-using videos across courses/quarters, sharing videos with colleagues, and analytics and quiz options, to name a few.
What to Know About Uploading Files to Canvas
Storage limits: none. You can upload and store as much as you want.
File size limits: none. You can upload gigantic files, though it may take a while.
File type support: Kaltura supports a wide variety of media formats ("all common video, audio and image formats in all resolutions," according to Kaltura).
Multimedia support: you can upload images and audio-only files as well. The Kaltura player also supports 360 videos!
Privacy: all media added to "My Media" is "private" by default (only you will be able to see it). You have to take additional steps to make them visible to others.
Quality levels: after a file is added to "My Media," Kaltura will generate multiple quality levels for that file behind the scenes (which they call "flavors"). Viewers can select a quality level manually if they wish. 
Data retention policy: if your video isn't watched at all for 2 years, the additional flavors that were generated will be deleted, although the source file will still exist. If your video isn't watched for 4 years, the entire entry will be deleted. Note that in both cases you'll be alerted one week before the action takes place.
Machine captions: all media added to Kaltura after 13 June 2020 will have machine captions added, typically within about 30 minutes after the file is done processing. These captions are about 70% accurate.
Availability in MediaSpace: if you visit MediaSpace, you'll see the same "My Media" you do in Canvas. We have a separate set of documentation on MediaSpace, but you're able to do a few different things with your media there (such as allow viewers outside the university to see them).
All videos that are added to "My Media" are initially private (only visible to you) by default. You need to take specific steps in order to make them visible to others. As we talk about in our tutorial on presenting videos, there are two main ways of making videos visible to students: by embedding them into pieces of instructional material in Canvas, or publishing them to the Media Gallery.
Video Quizzes
Note that while "Video Quiz" is an option you can select in the "Add New" menu in "My Media," you're not technically adding a new video - you're just editing an existing one by inserting quiz questions. Don't worry, though - we still have documentation on in-video quizzes as well!