Channel Collaboration Settings
Channel Collaboration Settings
Last Updated: August 31, 2022 11:04:14 AM PDT
You can grant certain channel members editing and/or publishing rights to every entry added to the channel. Here's how.
One particularly nice thing about channels is that you can configure them so that certain members are automatically given collaborator roles on all media published to the channel. You can allow these members to be co-editors, co-publishers, or both. (Learn more about collaborator roles in our documentation on sharing videos.)
In other words, you can configure your channel so that you're able to edit and/or anything added to it.
There are two things to bear in mind about collaboration settings for your channel:
Users aren't notified when publishing content to your channel that others will have edit and/or publish access to it. Be sure to alert users who contribute content to your course that others will have co-editor and/or publisher access to any videos they add.
If the media is removed from the channel, the collaborators aren't automatically removed. They'll need to be removed manually by the media owner.
Instructions
If you're not already logged into MediaSpace:

Go to https://mediaspace.ucsd.edu, click on "Guest" at the top right, and select "Log in."
Enter your Active Directory credentials.

Click your name in the upper right corner of the page and select "My Channels."
Find the channel in question, hover your mouse over its thumbnail, and select the pencil icon that appears in the lower right corner.
Click the "Collaboration" tab near the top of the screen.
Uncheck the box for "Use global settings." The checkboxes below should become available.
Select the channel roles you want to receive collaborator permissions.
The selections you make in the "roles" section of the channel's collaboration settings identify what channel roles will automatically receive collaborator permissions on media published to the channel. You can click on the "User" tab near the top of the screen to see what users have what roles in your course.
To learn more about channel roles, review our documentation on managing channel members.
Select the permissions you want to give to the channel roles you identified earlier: co-editor, co-publisher, or both.
Table 1. Collaborator roles and their descriptions.

| Collaborator Role | Description |
| --- | --- |
| Co-editor | Can edit all aspects of a video including changing the title, editing the captions, making cuts, etc. They can also download it. Not able to publish it in different channels or delete it. |
| Co-Publisher | Can publish a video to other channels. Also able to make the video an unlisted link. |
Click "Submit."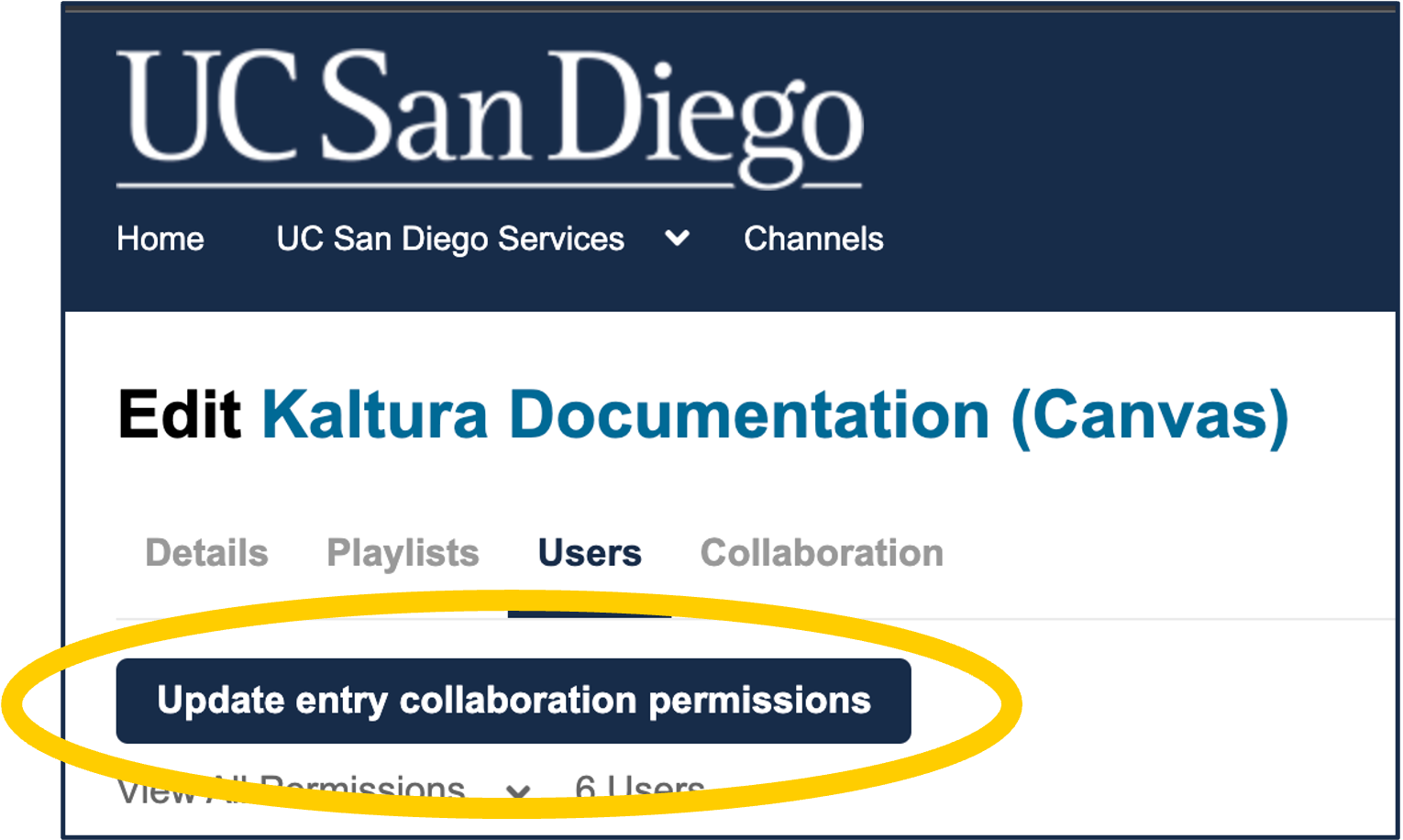 (Optional) Updating Existing Content
If you already have content published to the channel, you can update the collaborator permissions on it by following the steps below.
Click the "Users" tab.
Click the button labeled "Update entry collaboration permissions."
All existing content will be changed according to the settings you identified in the "Collaboration" tab.