How to Upload a Video in MediaSpace
How to Upload a Video in MediaSpace
Last Updated: November 22, 2021 12:08:40 PM PST
Have a video file that you want to upload to your media repository? Read below.
As a UCSD community member, you can upload a variety of media to MediaSpace, including images and audio files. The process is fairly straightforward. Open the drawers below to learn more.
What to Know About Uploading Files to Canvas
Storage limits: none. You can upload and store as much as you want.
File size limits: none. You can upload gigantic files, though it may take a while.
File type compatibility: Kaltura supports a wide variety of media formats ("all common video, audio and image formats in all resolutions," according to Kaltura). The Kaltura player also supports 360 videos!
Quality levels: after a file is added to "My Media," Kaltura will generate multiple quality levels for that file behind the scenes (which they call "flavors"). Viewers can select a quality level manually if they wish.
Machine captions: regardless of how they come into Kaltura, all media added to Kaltura after 13 June 2020 will have machine captions added, typically within about 30 minutes after the file is done processing. These captions are about 70% accurate.
Why You Might Want to Upload a File in MediaSpace
You have an existing file on your computer that you want to store in or share from MediaSpace
Prerequisites
An image, audio, or video file on your computer
Caveats
Longer/larger videos may take a long time to process (and be available for playback/editing)
You can only upload single-stream recordings (i.e. you can't have a multi-stream recording as you would with a Kaltura Capture video)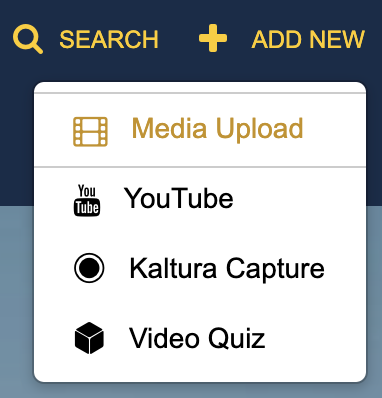 If you're not already logged into MediaSpace, go to https://mediaspace.ucsd.edu, click "Guest" at the top right of the screen and select "Login." Enter your active directory credentials. The screen will refresh and "Guest" at the top of the screen will be replaced with your name.
Click "+ Add New" at the top of the screen, and select "Media Upload."
On the subsequent page, either drag and drop the video you want to upload or click "Choose a file to upload" and locate the file you want to upload.
Enter or change the title of your video during or after your file upload. "Description" and "tags" are optional.
Click "Save."
Your video will now be in "My Media." Note that your video may be processing for a little while, and thus unavailable for editing or publication.
What Happens After You Upload a Video
After you upload your video, two automatic processes will kick in:
Kaltura will generate multiple quality levels (that they call "flavors"). While these are being generated, you won't be able to watch or edit the video.
Machine captions will be requested. This will not affect the ability to play or edit the video, but we strongly recommend that you wait until the captions are present before attempting to edit your video. Note that machine captions are about 70% accurate, so you should definitely edit your captions for accuracy to ensure accessibility.
As a result, your video won't be viewable in MediaSpace immediately after uploading, and it may take a little while after that for your captions to be visible/editable.
Have additional questions about videos in MediaSpace? Contact Multimedia Services at
kaltura@ucsd.edu
.