Kaltura Capture Features
Last Updated: June 1, 2023 4:55:23 PM PDT
Learn a little more about Kaltura Capture's features.
Kaltura Capture is the desktop application that allows you to record up to three sources on your computer, including microphones, cameras, and screens. The Kaltura video player has enhanced functionality that allows students to select their preferred way of consuming your content, in addition to supporting features like in-player chapters, video hotspots, cuts, playlists, and in-video quizzes, to name a few.
In short, Kaltura Capture allows you to quickly generate course videos and has a variety of handy features. With a little bit of preparation and some understanding of its capabilities, you can generate high-quality instructional videos with minimal effort.
Key Features
Below are some of the most noteworthy features of Kaltura Capture.
Availability
Most decent screen capture software has a price tag; Kaltura Capture is available for free to all UCSD community members with active directory credentials.

Ease of Use
Configuring your recording settings is fairly straightforward in most screen capture software, but one advantage with Kaltura Capture is that your recording will automatically end up in "My Media."
Dual-Stream Functionality
When you create a Kaltura Capture video with multiple video streams (i.e. your camera and your screen capture), viewers will have the option to select their preferred way of watching your video.
Check out the dual-stream video below to get an idea of this player functionality.
Live Annotation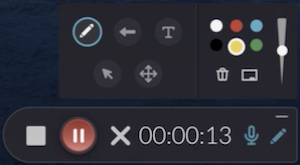 During your Kaltura Capture recording, you can display on-screen annotation in real-time (that is, without having to do it retroactively in post-production). Annotation features include the ability to do things like draw freehand, add arrows, And use an onscreen whiteboard, to name a few. Check out the tutorial specifically about Kaltura Capture annotations to learn more.
Pausing recordings
To minimize your need for any editing after your video uploads, you have the ability to pause your recording (and not stop it entirely). This is useful if you have to change onscreen applications or need to stop temporarily (say, if someone enters your recording space).