How to Use Kaltura Capture to Create Videos
How to Use Kaltura Capture to Create Videos
Last Updated: October 22, 2021 3:44:37 PM PDT
Kaltura Capture is an application that allows you to record your screen, camera, and microphone, and has some unique affordances when the video is watched.
Kaltura is the third-party company with whom UC San Diego has partnered to host and deliver video content within Canvas and MediaSpace. That partnership also allows UC San Diego community members to use their screen capture software for free.
What is Kaltura Capture?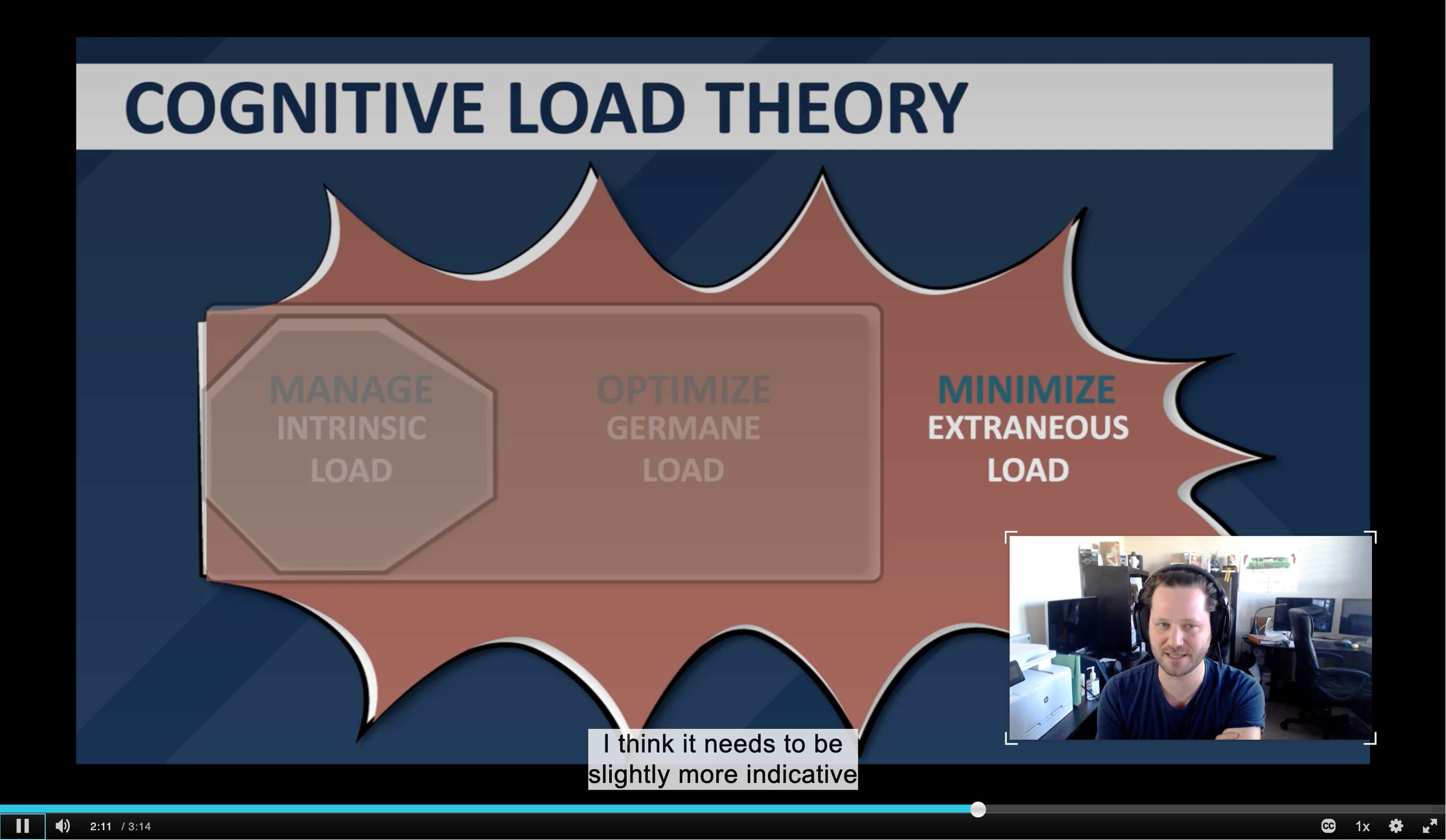 Kaltura Capture is a desktop application free to all UC San Diego community members that allows users to record their camera, screen, and microphone. Though the software retains recording files on your computer's hard drive, all recordings are also automatically uploaded to your "My Media" section of MediaSpace (and Canvas). With that in mind, Kaltura Capture is a great and easy way to create screen/camera capture videos.
One of the unique features of Kaltura Capture is that if multiple video sources are captured (e.g. a camera and a screen), the viewer has the ability to choose the arrangement of these two sources. Research suggests that even a modicum of user control over multimedia content can increase engagement.
Why You Might Want to use Kaltura Capture
You don't have your own screen/camera recording software
You want to record at a higher quality than Zoom
You want to capture multiple video sources (e.g. your screen and your camera)
You want to take advantage of the Kaltura video player's ability to allow students to choose how to arrange the video sources onscreen
Recordings are automatically uploaded to "My Media" and are preserved indefinitely
Recording with Kaltura Capture also saves video files to your computer, so you have backup copies
Using PowerPoint during a Kaltura Capture recording automatically creates chapters in the final video every time there's a slide change
System Requirements
Windows 7-10 (64 bit) and above OR Mac 10.12+
4 GB RAM
1 GB minimum storage space available
Intel i5 or AMD A10 (minimum 4 cores)
Intel Quick Sync
1024 x 768 screen resolution
An up-to-date web browser (or Internet Explorer 11)
Caveats
Older computers may struggle to record at high resolution
While recordings are uploaded to MediaSpace/Kaltura automatically, they're also stored on your computer, so if you record many videos, you'll eat up a lot of your hard drive space
You should reboot your machine and close any applications you aren't using before starting your recording to ensure that your system is dedicating as many resources as possible to recording your video
Kaltura Capture may be less reliable on a Mac (even a new one)
Kaltura Capture is the desktop application that allows you to record up to three sources on your computer, such as microphones, cameras, and screens. The Kaltura video player in MediaSpace has enhanced functionality that allows viewers to select their preferred way of consuming your content, in addition to supporting features like chapters, playlists, and in-video quizzes, to name a few. (Note that some of these features are only applicable in the Canvas-based deployment of Kaltura.)
In short, Kaltura Capture allows you to quickly generate screen capture videos and has a variety of handy features. With a little bit of preparation and some understanding of its capabilities, you can generate high-quality instructional videos with minimal effort.
Why use Kaltura Capture?
Given the options that you have for getting videos into your course, what's different about Kaltura Capture? What advantages does it afford you, given that you could also record on your own or automatically upload a recorded Zoom meeting? Below are some of the main advantages of using Kaltura Capture.
Screen Capture
Nearly everyone has the ability to record video easily through a variety of devices: smartphones, webcams, camcorders, and so on. Most instructional videos, however, often require the use of visual aids, and most instructors have these visual aids on their computers. Our computers, however, don't have the ability to do video-based "screen captures" by default, compelling users to purchase software (such as Screenflow or Camtasia) to capture their screens. UCSD, however, has partnered with Kaltura to ensure that all appropriate UCSD faculty, staff, and students can create screen capture videos and easily share or embed them.
Ease of Use
Kaltura Capture is relatively easy to use, and takes a lot of the more complex decision-making of video production (bitrate, file type, etc.) out of the equation for you. Using Kaltura Capture allows you to create content that you may have previously delivered in-person and distribute it either internally or publicly. In addition, Kaltura Capture is integrated with UCSD's instance of Canvas, so if you're also an instructor, you can also use those videos in your course. ("My Media" in MediaSpace and Canvas should be identical.)
Advanced Player Functionality
When you create a Kaltura Capture video with two video streams (e.g. your camera and your screen capture), students will have the option to select their preferred way of watching your video. Research indicates that when viewers have some amount of control over how they consume multimedia content tend to retain the information better.
There are three video configurations that Kaltura Capture allows for:
Picture-in-picture: one source is a small window within a full-screen representation of the other video stream. Viewers can choose which video stream is full screen, and they are able to move the smaller window around within the player.
Side-by-side: the two video streams have equal size and are next to each other.
Single stream: one video stream occupies all the player window.

Picture-in-picture
If you've recorded two video streams, viewers can choose picture-in-picture to see a small version of one within the other. Viewers can also toggle which video fills the screen.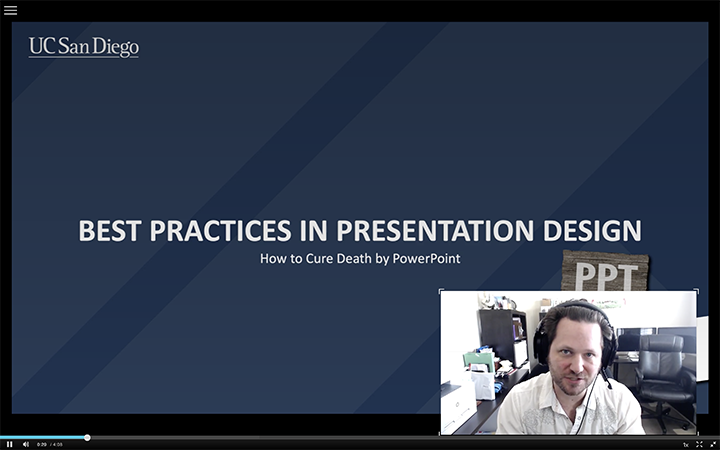 Side-by-Side
Viewers can also choose to put two video streams side-by-side, providing each stream with equal width. This can be advantageous if the instructor has recorded two screens, for example.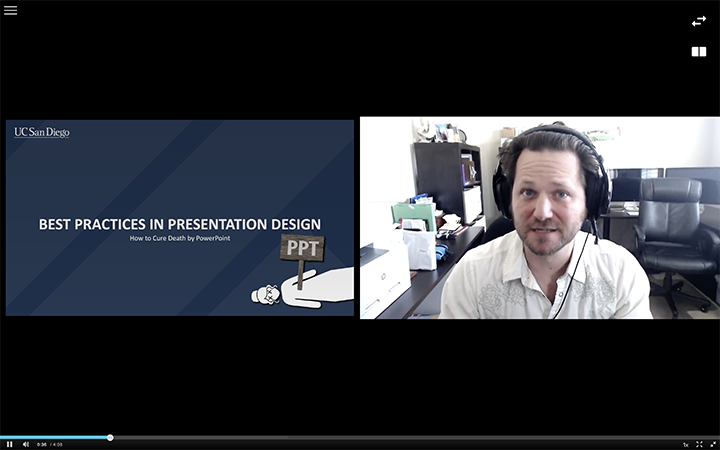 Single Stream
Lastly, users can elect to prioritize one video stream over another and just watch one of them rather than both simultaneously.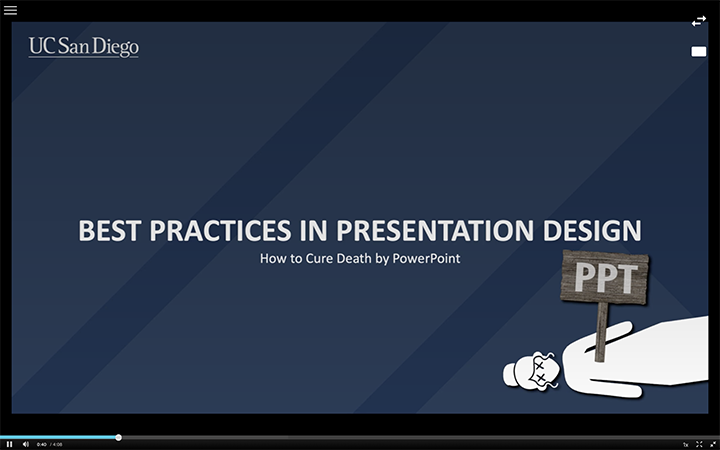 Live Annotation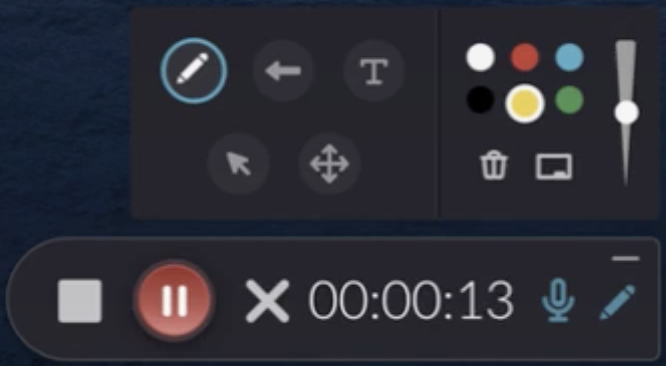 During your Kaltura Capture recording, you can display on-screen annotation in real-time (that is, without having to do it retroactively in post-production). Annotation features include the ability to:
Draw freehand
Add arrows
Add on-screen text
Highlight mouse clicks
Adjust color, position, and size of existing annotations
Use an onscreen whiteboard
Delete all content on the whiteboard
Delete all annotations
Automatic Chapter Creation
If you capture a PowerPoint presentation during your Kaltura Capture recording, the final product (when played in a Kaltura video player, like in MediaSpace) will add a chapter marker every time you advance your slides, making it easier for your viewers to navigate your content.
Pausing recordings
To minimize your need for editing after your video uploads, you have the ability to pause your recording (and not stop it entirely). This is useful if you have to change onscreen applications or need to stop temporarily (say, if someone enters your recording space).
Recording with Kaltura Capture is fairly easy if you're ready to record. There are four main steps:
Launch Kaltura Capture
Select your recording preferences
Start the recording
Stop the recording and upload
Read below for more detailed instructions.
Launch Kaltura Capture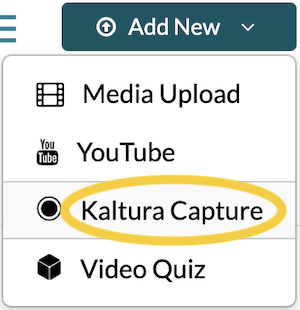 Reboot your computer.
Close all software that you won't be using during your recording. Note that failing to reboot and close extraneous software may result in your audio and video becoming out of sync in the final video.
Within Canvas, click on "My Media" in the left navigation.
Click on "Add New," then select "Kaltura Capture."
Click on the link appropriate to your computer platform to install Kaltura Capture on your computer.
Once the installation is complete, follow the steps above again. This time Kaltura Capture should launch (after your approval).
Alternative: Just Launch Kaltura Capture as an Application (Outside of Canvas)
Note that once the software is installed, you can also just launch Kaltura Capture manually (that is, not through Canvas, but just by opening the application on your computer). It will not change the fact that your video will be uploaded to the "My Media" section of Canvas.
Select your Recording Preferences
For each recording, you'll need to select what combination of screen, camera, and microphone you'd like to record.

Select what screen you'd like captured by clicking the caret under the screen icon.

If you only have one screen, there should be only one option.
You can elect to capture either your whole screen or just a part of it. If you want to record only part of your screen, click the caret under the screen icon, select the screen you'd like to capture from the pull-down list, and then click the radio button for "Select Area." You'll have several different sizes from which to choose and Kaltura Capture will display a semi-transparent box to give you an idea of how big each box will be. Drag the box around your screen to identify the section of your screen you'd like captured.
If you don't want to capture any screen, click the screen icon and it will turn gray with a slash through it.

Select what camera you'd like to use by clicking the caret under the camera icon.

If you only have one webcam, there should only be one option.
If you have a second monitor, you can elect to record a second screen rather than your camera.
If you don't want to record any video, click the camera icon and it will turn gray with a slash through it.

Select what microphone you'd like to use by clicking the caret under the microphone icon.

If you want sound from your webcam, select that option.
If you have a microphone on your computer and just want to record that, choose that option.
If you don't want to record any audio, click the microphone icon and it will turn gray with a slash through it.
Additional Notes About Recorder Settings
Kaltura Capture can record from no more than 3 sources. Typically this is your screen, microphone, and camera, but if you're using more than one screen, you could elect to record two screens and a microphone. Just remember that 3 sources is the maximum - you wouldn't be able to capture 2 screens, your camera, and your microphone.
Kaltura Capture will not capture your computer's audio. Any sounds that your computer makes will not be captured. If you play a video on your computer during your recording, for example, it will not have sound in the final product.
Your settings can't be changed once the recording begins. Once you press the red record button, you're not able to change any of your selections. If, for example, you wanted to stop recording from your camera, you'd need to stop the recording and create a new one.
On a Mac, you can capture your iPad screen while using Sidecar. Newer Macs and iPads allow for the use of Sidecar, an application that allows users to use their iPads as an extension of their desktop. If you're using Sidecar with your Mac, your iPad screen will be one of the screens you can select to capture.
Start the Recording

Click the red record button. A 3-second countdown will begin indicating when the recording will begin.
Wait about 5 seconds after the countdown completes before you begin speaking. (Depending your computer, it may take a few moments for your camera, mic, and screen capture to "kick in" and synchronize.)
Once the Kaltura Capture session has started recording, the application window will shift to a smaller version with modified controls. Note that this recorder window will be visible in your screen capture, though you can minimize or hide it if you wish.

Recorder Functions
The recorder has some clickable elements and a couple non-clickable indicators.
The stop button will end your video and prompt you to upload it to Canvas.
The pause button will suspend your recording until you press the record button again. Note that if you pause and resume your recording, your viewers will experience a jump cut. That is, the video will continue immediately from the section before you paused to the section where you resumed the recording.
The gray X will cancel and delete the recording. Use this only if you truly intend to discard what you've already recorded. It will not be recoverable!
The timer is not clickable, and indicates how long you've been recording.
The microphone icon is not clickable, and indicates whether or not you are recording from your microphone. It does not allow you to mute or change your microphone.
The pencil icon opens a submenu offering onscreen annotation options. See our article and video on Kaltura Capture annotations if you're interested in using these.
The gray line above the pencil icon will minimize the control window.
Stop and Upload Your Recording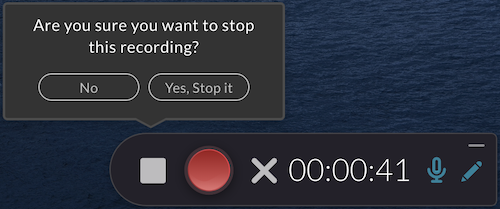 Click the square button to stop your recording.
Click "Yes, Stop it" to confirm that your recording is complete.
Give your video a title of your choosing.
Enter a description and tags, if desired. While these fields are optional, however, all of these can be edited later (just like the "title" field).
Tip: The Usefulness of Tags
"Tags" are essentially searchable keywords that you can add to your video entry. These can be very useful once the list of your videos in your "My Media" gets very long. Consider adding identifiers that you might use to easily find your video when doing a search in the future.
Click "Save & Upload."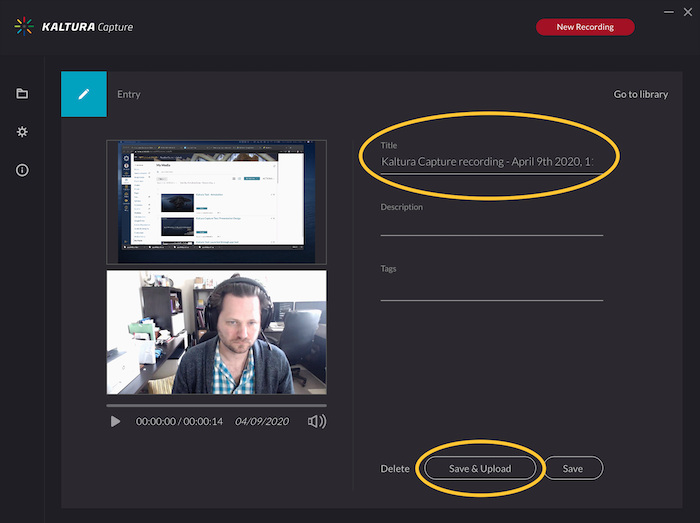 To be on the safe side, wait until the video has finished uploading before you close Kaltura Capture. You'll see a notification pop up that indicates that your upload has completed.

Cognitive psychology research on the use of visual aids in an educative content suggests that there are three main principles to bear in mind (Kosslyn 2007):
Connect with your audience
Direct and hold their attention
Promote their understanding and retention
Using annotations will help you with the last two principles - directing your audience's attention to salient information, and promoting their understanding and retention of your material. Below you can learn about the various features of Kaltura Capture's annotations to maximize your students' engagement and retention.
Annotation Features

To use Kaltura Capture's annotation features, during a recording click the pencil icon on the right side of the recording bar.
When you do, the annotation tools menu will appear above the recording bar.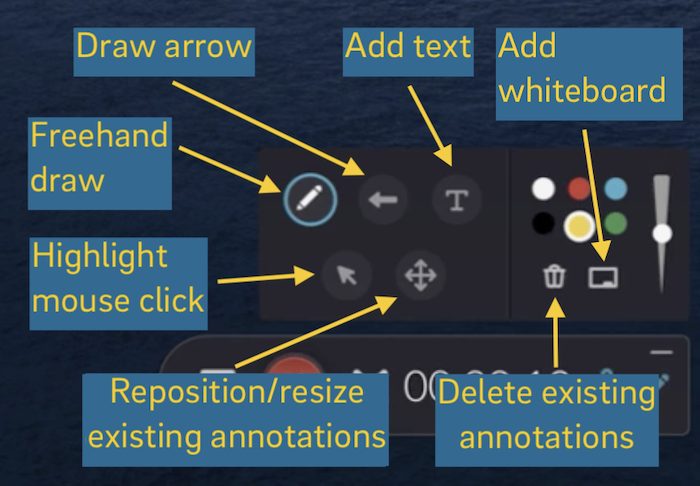 Draw Freehand
The pencil icon within the annotations menu allows you to draw on the screen. You can use your mouse to draw anything you like. Use the color palette to select the desired color of the pen.

Draw Arrow
The arrow allows you to, well, draw arrows on the screen. Once it's selected, click and drag your mouse. Where your mouse begins will be the start of the arrow, and where it ends will be where the actual "pointer" part of the mouse is. You can select the color of the arrow in the color palette.
Type Text
The icon that looks like a capital "T" is the text icon. Once selected, click anywhere on your screen and a text box will be added, allowing you to add text onscreen. Use the color palette to select the desired color of your text. You can also click inside one of your existing text boxes and select a color to change the color of that text. Note that you have a maximum of 500 characters within text boxes.
Highlight Clicks
The icon that looks like a regular mouse cursor (an arrow icon pointing up and to the left) allows you to draw attention to each of your mouse clicks by adding a small yellow circle radiating outward from where you clicked - kind of like a radar animation. It's handy for recordings where you click frequently and the locations of your clicks are relevant to your students' understanding of the material (for example, software tutorials). Note that you can't change the color of the "radar" effect - it will always be yellow.
Select Object(s)
The icon depicting two intersecting arrows allows you to select existing annotations and move them. For example, if you have an arrow onscreen already, you can use the select tool to move it around the screen rather than having to add another arrow. If you have multiple objects, you can draw a box onscreen around them and all objects within the box will be selected.
You can also use the selection tool to enlarge existing annotation objects. When an object is selected, little boxes will appear at the corners as well as midway through each side of the rectangle.
Clicking and dragging the boxes in the corner of the object will change the overall size of the object.
Clicking and dragging the boxes in the midpoints will allow you to visually "squash" the object by changing the horizontal or vertical dimension separately.
Create Whiteboard
The rectangular icon under the color palette creates a virtual whiteboard onscreen. When the whiteboard is present, all the other tools will only be usable within the whiteboard. You can't, for example, select the arrow tool and draw on your screen outside the whiteboard. However, you can use all the other annotation tools.

You can also download the contents of the whiteboard to your computer by clicking the icon that looks like a sideways open bracket with a downward arrow above it. It'll download to your desktop as an image file.
While the whiteboard is visible, clicking the trash icon in the annotations menu will clear the whiteboard, but not any existing annotations that are outside the whiteboard.
Click the "X" button at the top right of the whiteboard to close it.
Change Object Size
The vertical slider on the right side of the annotations menu allows you to identify in advance how big you want your annotations to be. Move the slider to the top to make it large and to the bottom to make it small.
Note that this tool only works in advance of creating your annotation - you can't use it to adjust the size of an existing annotation. If you want to adjust the size of an object you've already drawn, use the select tool and click and drag one of the little boxes in the corner of the selected object.
Delete Objects
The trash icon will delete all annotations onscreen. If you're in the whiteboard, it will only delete the annotations within the whiteboard.
A Note About Accessibility
As we discussed in the preamble above, annotations are a pedagogically useful tool for drawing attention and promoting retention. However, as with all videos produced in an educational context, you must assume that a visually or hearing impaired person will be consuming your video. Using annotations shouldn't replace spoken words that describe what you're doing or indicate emphasis on a particular piece of information. Accordingly, try to be aware of when you';re using annotations and not indicating what you're drawing in a manner that would be accessible without the visual aid.
References
Kosslyn, S. M. (2007). Clear and to the point: 8 psychological principles for compelling PowerPoint presentations. New York: Oxford University Press.
Though your recordings upload to your "My Media" section of MediaSpace, Kaltura Capture keeps a copy of these files on your computer. Their location is a bit tricky to find, though, so follow the instructions below if you for some reason need to access your recording files.
Windows (Option 1)
Right click on the Kaltura Capture icon on the desktop and select "Properties."
Click the "File Location" button in the Properties window. This will open the BIN folder, which is a level deeper than you need.
In the file path bar, go up one folder to the Capture folder, then open the Recordings Folder.
Windows (Option 2)
Copy/paste the code snippet (folder path) below into the search bar, substituting your Windows username for [username]. Note that you can identify your Windows username is to open the folder C:\Users and see if you see a familiar username. Alternatively, you can open the Start Menu, select "Settings," and then "Account."
C:\Users\[username]\AppData\Local\Kaltura\Capture\Recordings 
Sort the list by "Date Modified" so that you can group all the files for each recording together.
Mac
Open Finder and select "Go" at the top of your screen.
Select "Go to Folder" from the list. Copy and paste the following into the text box that opens:
~/Library/Preferences/Kaltura/Capture/Recordings
Sort the list by "Date Modified" so that you can group all the files for each recording together. To do so, click the "Date" or "Date Modified" column heading in the file view to sort the list.
About Your Kaltura Capture Files
The filenames associated with each Kaltura Capture recording aren't that helpful in identifying them. With this in mind, here's some additional information on your recording files.

File Types and Descriptions
.mp4 files: The .mp4 files are the recordings. If you recorded two sources (e.g. Screen and Webcam), there will be two .mp4s. You can play them locally on your computer to figure out what each video is.
"Slides" folders: The "Slides" folders exist if you ran a PowerPoint presentation in presentation mode during your recording. Note that if you have folders like these, it means that Kaltura created chapter markers for your video.
.json files: The .json file contains the media upload parameters for Kaltura Capture.
.jpg files: The .jpg file is the thumbnail Kaltura generated.
We strongly recommend against deleting or renaming any files in your "Recordings" folder.
The recommended method of deleting Kaltura Capture recordings is by using the library view within Kaltura Capture (that you can access via the "Manage" link in the Kaltura Capture recording bar), but
make sure they are in "My Media" in MediaSpace and working as expected first
.
Should I use Zoom or Kaltura Capture to record my course videos?
Answer: It depends.
I hate to provide a vague answer, but it really depends on your preferences. Here's a bulleted list of my thoughts on the matter.
Use Kaltura Capture if:
You want students to be able to choose the viewing configuration (single stream, side-by-side, or picture-in-picture)
You want to have higher quality/resolution videos
You have decent bandwidth where you're recording You want to have recording files on your computer as a backup
You like Kaltura Capture's live annotation tools and you intend to use them
Use Zoom if:
You want to record a session with other participants
You're a Mac user (we've received reports that it doesn't function as well on Macs as it does on Windows computers)
You're comfortable with the Zoom interface
You don't have good bandwidth
You want to capture peripheral devices, such as an iPad You just can't deal with yet another application to learn
Can I record my computer audio?
Answer: Technically no, but you can kludge it depending on your recording setup.
Kaltura Capture doesn't have a built-in ability to record computer audio, but you can work around this if you're using an external speaker (for example, your computer's built-in speakers) and a microphone that can pick up those speakers. The audio quality won't be great, but hey, it's a workaround.