Warning: Failure to comply with international and federal transportation regulations when shipping hazardous materials can result in civil penalties of $50,000 per occurrence, and criminal penalties may include 5 years of imprisonment in addition (49CFR 107.329-107.333)
Note: Training and Certification is required for departments to ship Biological Substances/ Dry ice (49CFR 172.700).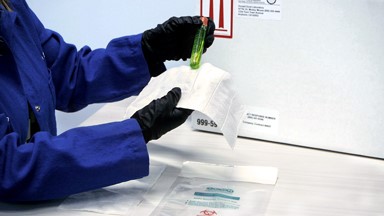 The required training certification course for shipping biological materials and dry ice is now offered online through UC Learning. This self-paced course replaces the in-person training that could only be offered once per quarter.

To register for the online training and certification course log in to UC Learning and search for "Shipping Biological Substance and Dry Ice"

Avoid costly fines. Take steps to get certified today.
After the class and test, you will be certified to ship Biological Substances and Dry Ice for 2 years.
If you are shipping diagnostic specimens/ biological substances, please read the following description.
Regulations
UCSD conforms to strict government regulations when transporting hazardous materials. Shipments must arrive at their destination in good condition and present no hazard during shipment. Prior to shipping any hazardous material, you should contact the Shipping Coordinator at (858) 534-5737.
Diagnostic specimens/ biological substances resulting from medical practice and research are considered a negligible threat to the public health. They are, however, subject to the regulations governing the transport of hazardous material.
Definition
The U.S. Department of Transportation (USDOT) and the International Air Transportation Association (IATA) define a diagnostic specimen/ biological substance as any human or animal material including but not limited to excreta, secreta, blood, blood components, tissue, and tissue fluids collected and shipped for the purposes of diagnosis, investigation, or research.
The Proper Shipping Name (PSN) "Diagnostic Specimens" UN3373 is no longer acceptable by the USDOT and IATA. The new PSN is "Biological Substance, Category B" UN3373.
A diagnostic specimen/ biological substance is considered an infectious substance when:
The specimen is obtained from a patient with suspected infection
Exposure to the specimen could result in an infection
The specimen is collected during an investigation of an outbreak of a serious disease of unknown cause
If you are unsure about the regulations concerning shipping a diagnostic specimen/biological substance, submit a ASK case or call (858) 534-5737. They will research your item and advise you how to proceed.
Further information
To read the regulations concerning the transport of a diagnostic specimen/ biological substance, see: