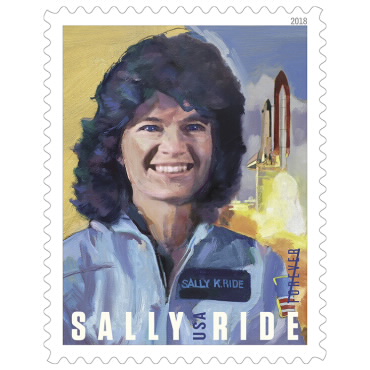 The new Sally Ride postage stamp is now available at Mailing Center.
The number is limited. Get yours soon.
We sell boxes and envelopes in a variety of sizes and offer free packing materials (recycled filler, and packing tape) at our self-service packaging station.

The UC San Diego Mailing Center is a retail convenience center operated by IPPS Mail Services. The Mailing Center is located next to the Passport Office on Greenhouse Lane in Campus Services Complex, building 'A' (map). Customer parking is available near the entrance.
Mail packages and letters to U.S. and international destinations. International packages require a computer generated customs form. Go to: https://cns.usps.com/cfo/ShippingInformationAction_input
Ship packages or letters using UPS or FedEx.

Mailing Center offers steep discounts on UPS and FedEx compared to carrier direct

Rent private mail boxes. Boxes are available to anyone with two forms of identification for a 6-month or 1-year rental period.

Fees:

Small box: $7/ month
Key deposit: $25 (refundable with key return)

Buy stamps and mailing supplies.
Deposit stamped mail weighing less than 13 ounces in the collection box in front of Price Center. Please refer to the collection box for pick up times.
Hours
Weekdays, Monday-Friday 8:00 a.m. - 3:00 p.m.
(University holidays are observed)
Deadlines for mail to go out the same day:
Regular mail: 3:00 p.m.
Express Mail: 1:30 p.m.
FedEx or UPS packages: 2:30 p.m.
Metered mail: 3:00 p.m.
Payment methods
Cash
Discover, VISA or MasterCard 
Personal check, made payable to U.C. Regents and with proper identification (such as a valid driver's license)