UC San Diego Women's Conference
UC San Diego Women's Conference
Last Updated: February 27, 2018 12:45:55 PM PST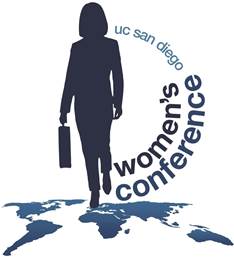 Learn about the annual UC San Diego Women's Conference.
2018 program information
Date/ location: Thursday, March 8, 2018, 8:30 a.m. – 4 p.m. Price Center
Registration is free, but attendance is limited
Theme: Be Bold for Change
Keynote speaker: We were honored to have Dr. Elizabeth H. Simmons, the Executive Vice Chancellor for Academic Affairs at the University of California San Diego.
Breakout sessions:


Career Development
Wellness & Mindfulness
Get Involved - Be Prepared - Make a Change!
Be Part of the Future with STEMM

Watch online: Watch the live feed of the conference.
Learn more at womensconference.ucsd.edu/
About the conference
The UC San Diego Women's Conference brings together business professionals, healthcare providers, scientists and award-winning faculty to share ideas on motivating today's working woman, offering tips on empowering one's self, budgeting and finances, and staying fit, healthy and well-balanced.
The all-day conference is free for all UC San Diego faculty, post docs, staff and students. It's a powerful event that features a noted keynote speaker, breakfast, a full roster of exhibitors catering to women, and breakout sessions that offer practical, relevant advice and tools to help you navigate through your personal and professional journey.