Management & Leadership Development
Management & Leadership Development
Last Updated: December 4, 2017 10:52:01 AM PST
The UC Office of the President recognized our campus at the inaugural UC People Management Conference for having the greatest number Management Development Program (MDP) graduates of all UC locations.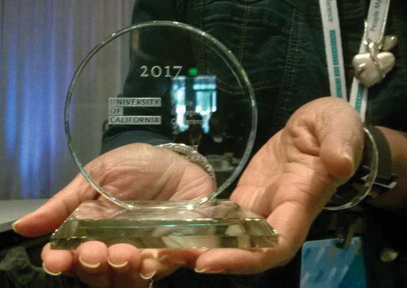 Career Development is in the top 10 drivers to attract, is the number one driver to retain, and is in the top three drivers to engage staff, based on the Towers Watson® 2010 Global Workforce Study.
 
According to the Gallup Organization, companies with low employee engagement experience 18 percent lower productivity, 16 percent lower profitability, and 65 percent lower share price over time.
 
In the U.S., the Association of Talent Development (ATD) conducted a survey which found that great managers consistently demonstrate five key qualities: accountability, collaboration, engagement, listening, and observation. According to the ATD report, only 38 percent of organizations gave frontline managers the opportunity to develop proficiency in communication skills, while only 33 percent did for listening and assessing skills.
Here at UC San Diego we offer communication, listening and assessing skills in multiple instructor-led and online courses. These topics are included in, to name just a few, the Management Development Program (MDP), UC People Management (UCPM) certificate, Supervisory Training Laboratory, Work Leader Training Laboratory, Creating an Effective Individual Development Plan (IDP), The Manager's Role in Employee Development, The Practice of Listening, and Developing Your Assertive Skills.
At the inaugural UC Systemwide People Management Conference in August 2017, UC San Diego was recognized by the UC Office of the President for having the greatest number of MDP graduates, of all UC locations. We have 202 graduates to date and counting, so we are continuing to build and network together our campus' leadership development community.
This shows our campus' ongoing commitment to develop quality leaders.
Past MDP participants have commented:
"This was a great program! I highly recommend all our middle managers to attend this class."
"This program offered good opportunities to learn new skills and discuss them with colleagues right away. I enjoyed the interactive projects and being able to meet new managers from across our campus."
"Engagement conversations have been very useful in structuring my 1:1 meetings!"
"After soaking it all in, I plan on setting up a more organized strategy to handle my difficult situations."
"Excellent program, it provided me with some new ideas of approaching change and working with my staff during this period of rapid information requests, changes and restricted resources."
"The content was very relevant and will be useful moving forward. I found the section on influence very informative and value the concept that planning and preparation for a goal, objective, project is vital."
"I loved that I could hear about other manager's experiences at our institution specifically to help give me perspective on the way things happen here at UC San Diego."
This is just one of many examples of our campus' investment in the development of leadership and management skills.