The Vision (Desired Future State)
"Workforce diversity" describes the differences, similarities, and unique features that exist in an organization's workforce due to the mixture of gender, ethnicity, race, national origin, disabilities, veteran status, sexual orientation, gender identity, religious beliefs and other factors.
The focus of workforce diversity for federal contractor compliance with the Office of Federal Contract Compliance Program regulations is workforce representation based on gender, ethnicity, people with disabilities and veterans.
As a federal contractor, UC San Diego is seeking workforce representation that reflects the diversity of the market in which the university would reasonably recruit, i.e., national, state, local regions and those with the requisite skills for the types of position openings.
While complying with affirmative action and equal employment opportunity regulations and policies is helping UC San Diego to recruit a diverse workforce, access to the many opportunities UC San Diego offers and behaviors that reflect inclusion and respect of all UC San Diego community members are necessary to retain a diverse workforce.
Diversity of employee backgrounds can have the following benefits:
Ability to more readily recruit and retain a diverse workforce
Creation of an internal talent pipeline to fill interim and long-term assignments
Support of UC San Diego's status as a federal contractor in good standing as reflected by workforce diversity recruitment and retention outcomes
Opportunity to pursue more effectively the mission of the university through the participation of a diverse workforce
Enrichment of the dimensions of expanded organizational learning
The Challenge (Need for Change)
There is ethnic and gender underutilization in certain employment programs and job titles at UC San Diego. One way to consider this issue is to compare current workforce representation with market availability of those with the requisite skills. Minimally, the University's workforce representation should be close or equivalent to parity with market availability. When the workforce representation for women or minorities is lower than their market availability, there is underutilization.
One way to address underutilization is to focus UC San Diego's outreach on attracting diverse applicant pools and ensure that there is attention to equal opportunity practices throughout the selection process. To be competitive in the present and future marketplace, UC San Diego's workforce must be comprised of the best within its diverse local, national and international communities.
As UC San Diego recruits broadly to fill positions at all levels and engages in equal opportunity practices throughout each selection process, there will be more diverse representation in terms of gender, ethnicity, disabilities, veteran status and other factors.
To facilitate workforce development and retention in support of achieving UC San Diego's mission, the University's leaders, managers and supervisors will need to continue to enhance their cultural competence skills. Building a climate of inclusion requires committed and knowledgeable leadership, continuing education, practice and feedback.
UC San Diego is engaged in developing and implementing new strategies to rectify underutilization, e.g., the revamped online Employment Application, other online information such as "What's it Like to Work at UC San Diego?" and the "Diversity Matters" website. Continuous evaluation of the University's recruitment efforts is key to determining what's working and to aid in developing new strategies.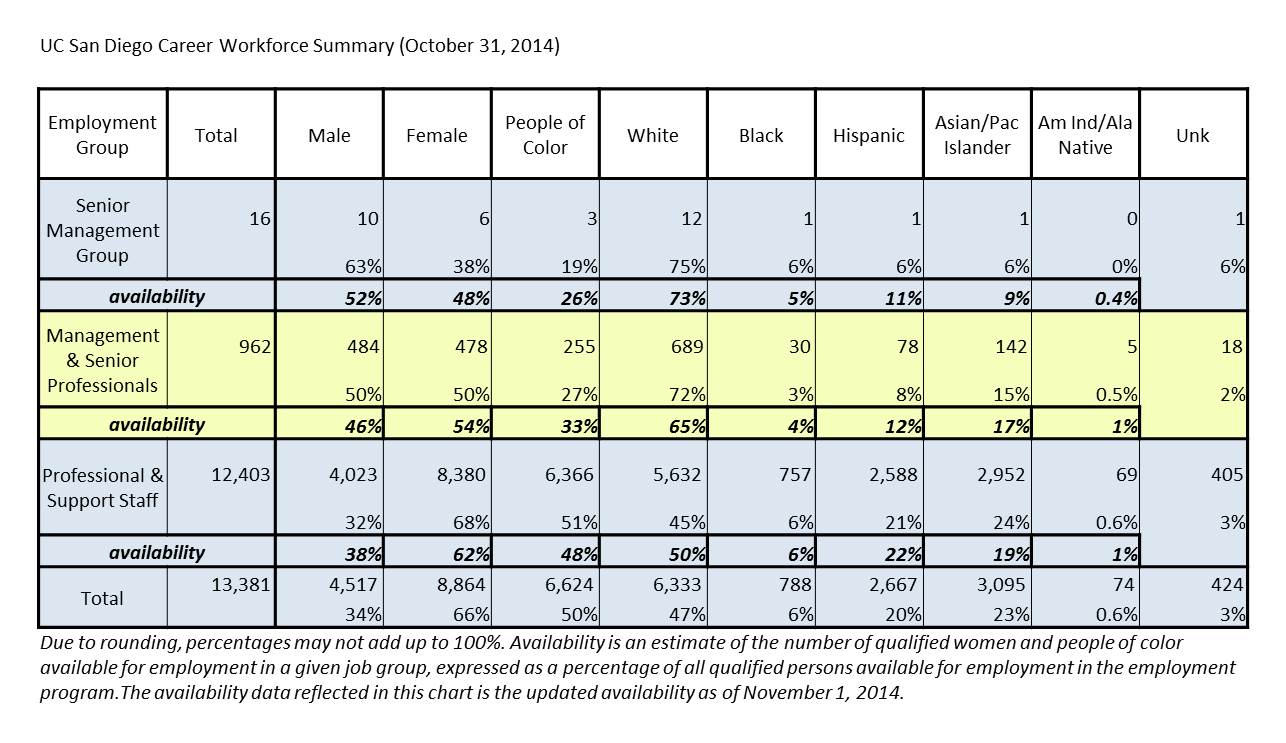 This chart depicts the most current snapshot of UC San Diego's career staff workforce. Where an availability percentage is greater than the actual workforce representation, there is underutilization, e.g., since the availability of females in the Senior Management Group is greater than their representation, there is underutilization of females in this employment program.
It is important to track workforce diversity in relation to key employment activities from recruitment, training and performance management to promotions and separations. Ideally, diversity in relation to the key employment activities would be proportionate to the representation of various groups within the workforce. Providing resources and a workplace climate that maximizes the potential of a diverse workforce to compete for the many anticipated employment opportunities will enhance UC San Diego's continued excellence as a higher education and research institution in the global market.
The Plan (Pathway to Success)
Workforce Diversity
Why?
When?
Status
Pilot using infomercials online
To increase visibility and use of staff recruitment and retention resources.
Q1 2014
Two areas for initial infomercial development have been selected by the work group: childcare and eldercare. Funding for this project has been obtained. Infomercial scripts are being written in preparation for production.

Update the availablity data

To reflect more accurate workforce and census data.
Q1 2014
Information gathering is underway.
Establish and train a cadre of Staff EEO Advisors
To promote EEO in recruitment and succession planning related to workforce dvelopment.
Q4 2013
Staff EEO Advisors orientation session was held on April 29, 2013. Notification of the vice chancellor is forthcoming.
 
Workforce Diversity
Why?
When?
Completed
Develop a career development workshop series for employees in transition.
To foster career management skills, job satisfaction and retention of new employees.

Q2 2013

Completed. The first workshop was offered on April 17, 2013.

In partnership with Staff Education and Development and others, develop and present the "Culturally Competent Management Program"
To address the need for current and aspiring managers and supervisors to continue to exhibit inclusive behaviors as they lead.

Q2 2012

The classroom training and the e-learning component are now available. Webinars will be produced as a classroom follow-up activity.
Design a new interactive mentorship Blink page
To use technology to aid in matching mentees with mentors and provide key information to mentorship participants.
Q2 2012
Completed. The Mentorship Program page has been launched on Blink.
Provide annual workforce composition data updates
To provide University leadership and strategy implementers with the most up-to-date data to enhance succession planning strategies.
Q1 2012 and Q4 2011
Completed. Individual meetings with the chancellor and vice chancellors were completed January 2012.
Design a career development workshop series for baby boomers
To promote job satisfaction, productivity and knowledge transfer by providing career planning and implementation resources for this group.
Q1 2009
Completed. The first career development workshop series has been delivered to the target audience.
Design a career development workshop series for mid-career employees
To augment the career management skills and continued career growth of mid-career employees.
Q4 2008
Completed. The first mid-career development workshop series began in November 2008 and the next series was offered in the Fall of 2009.
Next: Knowledge management | Previous: Performance management