Single Sign-On
Last updated March 19, 2013 9:30:27 AM PDT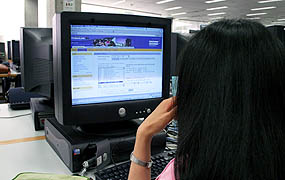 Learn how the Single Sign-On process allows UCSD faculty and staff to enter a user ID and password just once for access to a number of campus systems.
With Single Sign-On (also called SSO), one ID and password authenticates your identity and access rights, giving you entry to a set of campus Business Systems. With SSO, you sign in once and don't have to sign in again — until you sign out or remain idle for a period of time and close the browser session.
Business Systems involved include:
Note:
How it works

When you access any of the participating UCSD Business Systems, a sign-in page, as shown here, will appear (click the image for a larger view). By signing in, you get access to all the systems you're authorized to use.
How to register
To register as a new user, read these simple instructions.
Note: This page has a friendly link that's easy to remember: http://blink.ucsd.edu/go/sso