Accessing the UCSD-GUEST Wireless Service from Windows 7
Last updated March 13, 2013 8:38:14 AM PDT
Learn how to connect to the UCSD-GUEST wireless network with Windows 7. Guests of UCSD and faculty, staff, and students who are not members of our campus services (SSO, Active Directory) can access the wireless network from many public and outdoor UCSD areas.
For background information, see Wireless Overview.
You may be required to follow these instructions in order to download the certificate to connect to UCSD-PROTECTED with Windows 7.
UCSD-GUEST provides general access to the Internet, but does not provide access to restricted campus resources.
Newer laptops have built-in wireless cards.
If you have an external card, insert it in the PCMCIA or USB slot, then turn on the computer.
Click the Wireless bars at the bottom right of the taskbar.
Click UCSD-GUEST at the bottom right of the taskbar, then click Connect.
A successful connection screen will appear when the connection is made. This may take up to a minute.
Click Close.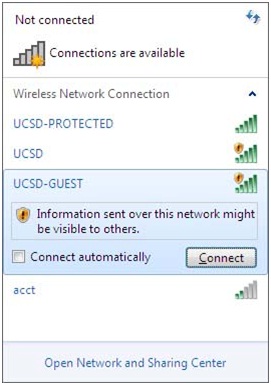 Open your Web browser.
You should see a page similar, but not identical to, the image below.
Read the Terms of Use, then check the box next to "I have read and accept the Terms Of Use."
Click Guest Login.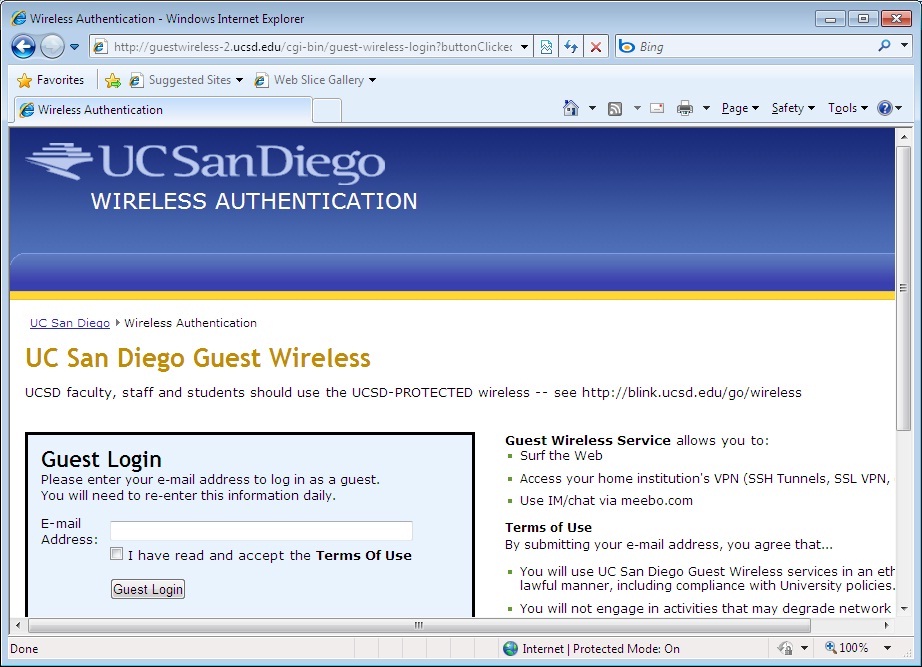 You should see a page similar, but not identical, to the image below.
Turn your wireess off and back on again.
Wait about two minutes to be directed to your desired web site.
If, after the registration is complete, you are not redirected to the page you were trying to reach initially:

Restart your wireless connection (turn it off and back on again).
You may have to reselect the UCSD-GUEST wireless network after you turn your card off and back on again.
Some older computers may require you to turn the wireless off and back on several times if redirection does not work initially.