Configuring a BlackBerry Device to Use Encrypted (WPA2-E) Wireless Services at UCSD
Last updated July 29, 2013 10:03:34 AM PDT
Follow these steps (updated 7/29/2013) to set up your BlackBerry device to use WPA2-E encrypted wireless at UCSD.
Before you begin, you must have:
A BlackBerry running BlackBerry OS 4.0 thru 7.1.
An Active Directory (AD) username and password. Your username is usually the first part of your UCSD e-mail address (before the @ symbol). If you forgot your password, reset it at http://adpass.ucsd.edu.
Note:
These instructions are based on the BlackBerry Bold. Configuration may vary depending on your model and cell phone service provider.
Navigate to Manage Connections.
Select Set Up Wi-Fi Network.
Select Scan For Networks.
It may take a few minutes for your device to finish scanning for available networks. Once completed, select UCSD-PROTECTED.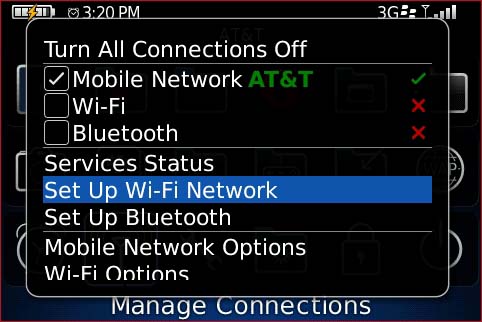 Security Type: Select PEAP.
User name: Enter your Active Directory (AD) username.
User password: Enter your AD password.
CA certificate: Select AddTrust External CA Root.
Inner link Security: Select EAP-MS-CHAP v2.
Token: Leave as None Selected.
Server subject: Leave blank.
Server SAN: Leave blank.
Click Connect.
Once connected, select Yes for "Save this Wi-Fi Network as a Profile?"
Click Next.
You are now connected to the UCSD-PROTECTED network.
Wi-Fi can be left on. Your device will automatically connect when the network is in range.