Connecting to the UCSD Web Proxy Server With Opera 9.x and above
Last updated May 30, 2013 3:23:08 PM PDT
Set up Opera 9.x and above to access UCSD resources from off campus via the proxy server using a Mac or PC (Windows).
Note: You will need administrator privileges and your network username and password to authenticate your computer with the proxy server. If you've forgotten your username or password, see Getting or Changing UCSD Passwords.
The screenshots below are taken from a Mac platform. PC users will see a slight variation in design, but the fields and labels will be identical.
Open Opera.

Macintosh: Open Opera menu, and select Preferences, Advanced and Network.
Windows: Open Tools menu and select Preferences, Advanced and Network. For version 12.14, open Opera menu and select Settings, Preferences, Advanced and Network.

 Click Proxy servers.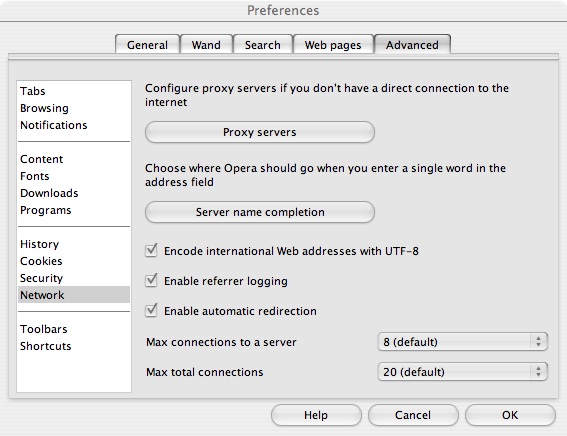 Check Use automatic proxy configuration.
In the text field, type http://webproxy.ucsd.edu/proxy.pl
Click OK to save your settings.
Close and restart Opera.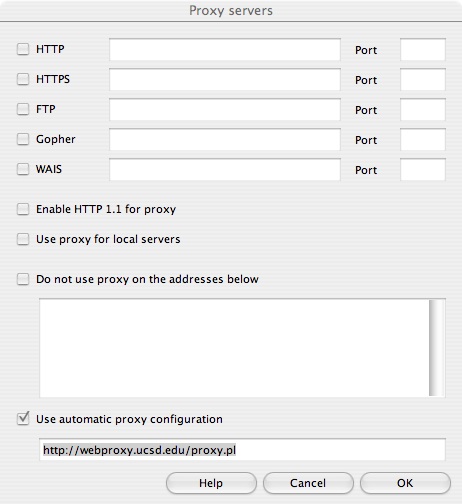 The first time you attempt to access a UCSD-restricted website, you will need to enter your UCSD network username and password, and click OK.