Connecting to the UCSD Web Proxy Server With Internet Explorer 6.x (XP and Earlier)
Last updated March 13, 2013 8:20:10 AM PDT
Set up Internet Explorer 6.x to access UCSD resources from off campus via the proxy server with Windows XP and earlier.
You need administrator privileges and your network username and password to authenticate your computer with the proxy server. If you've forgotten your username or password, see Getting or Changing UCSD Passwords.
Some off-campus wireless providers may not work with the proxy. If you have trouble, use the UCSD VPN instead.
With Internet Explorer running, open the Tools menu and select Internet Options.
In the Internet Options window, click the Connections tab.
Click LAN Settings.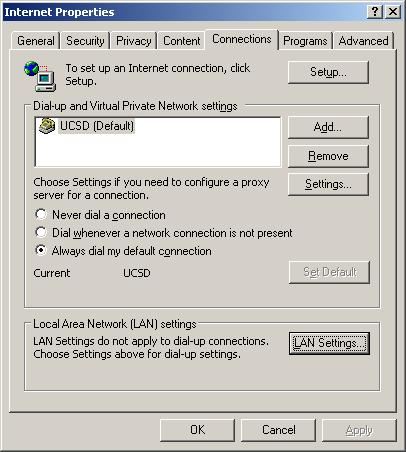 Take a screen shot of the Local Area Network (LAN) Settings window or make a note of the settings before making any changes.

Note:You will need to change the settings back to their original state when you finish using the proxy.

Check Use automatic configuration script and uncheck Automatically detect settings.
In the Address field, enter http://webproxy.ucsd.edu/proxy.pl
Click OK to close the window. Click OK in the Internet Options window to close it and save your changes.
Restart Internet Explorer.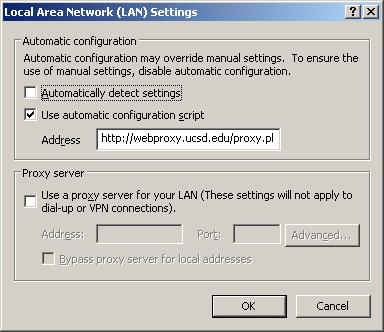 The first time you attempt to access a UCSD-restricted website, you will need to enter your UCSD network username and password, and click OK.