Filtering Spam in Entourage — Basic
Last updated May 30, 2013 3:14:24 PM PDT
Set up mail filters to decrease junk mail (also known as spam) in your e-mail inbox. This basic form of filtering uses the spam status header to filter junk mail into a separate folder.
In the right place? See also advanced instructions.
Open Entourage.
Select Tools, and then click Rules.
Click New.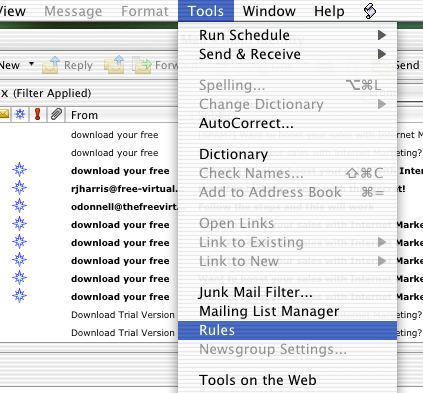 For Rule name, type Spam
Click the arrows next to All messages and select Specific Header.
In the field next to it, type X-Spam-Flag
In the field next to Contains, type YES in all caps.
Click the down pointing arrow next to Change status, and select Move message.


Click the arrows next to Inbox, and select Choose folder.
Click New Folder.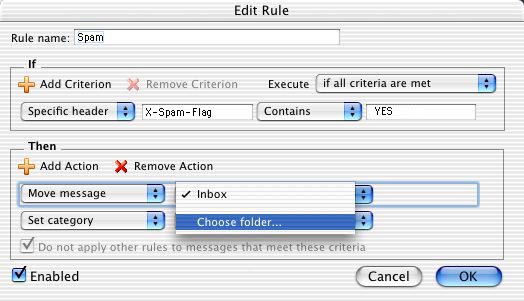 Type Spam in the Name field.
Click Create to continue. The new Spam rule will show up in your Rules window.
Close the window.

Incoming e-mail that appears to be spam will automatically be moved to the new folder you created.
It's possible for legitimate e-mail to be marked as spam.
Periodically check the contents of the Spam folder to ensure that this has not occurred before deleting its contents.