On-Campus Desktop Support
Last updated May 10, 2011 10:04:47 AM PDT
Learn about the excellent desktop support for computers available on campus.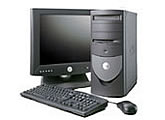 Academic Computing & Media Services (ACMS)/ Desktop Support
Desktop Support provides on-site Apple and Windows computer support services on a recharge basis for UCSD and UCSD-affiliated departments. Services offered:
Setup of new workstations and servers or upgrade existing
Management of department networks (remotely or on-site)
Migration of department networks to Active Directory
Campus Exchange E-mail services
Installation and configuration of software applications
Removal and troubleshooting of security issues, such as virus infections
HP laser printer repairs
Note: Desktop Support does not provide programming services for databases or support Unix. For Unix, contact ACMS Unix Support.