Student Affairs: All-Staff Meetings
Last updated November 7, 2013 4:02:08 PM PST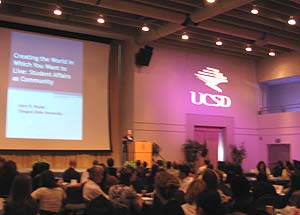 Join other Student Affairs staff members at the Vice Chancellor's biannual meetings.
The Vice Chancellor – Student Affairs invites all staff to meet to celebrate successes, learn more about one other, and explore topics of current interest. Meetings are usually held each Spring and Fall Quarter; meeting dates are announced through the Student Affairs staff e-mail list.
Next scheduled meetings
Save the date and join your colleagues at the next Student Affairs All-Staff Meetings. Times, locations, and agendas will be sent via e-mail as these dates approach.
Fall Quarter: Tuesday, October 29, 2013
Spring Quarter: Tuesday, April 29, 2014
Bring questions for the Vice Chancellor
Ask your questions in person at the meeting, or fill out a card at the name-tag table when you arrive. To ask anonymous questions, send them to Stephanie Wong (Mail Code 0015) before the meeting date.
Material from previous VCSA all-staff meetings (all PDFs unless noted):
Fall 2013

Fall 2012

Agenda and breakout session presentations:

Fall 2010

Wellness presentation materials:

Spring 2010

Breakout session presentations:

Fall 2009

The agenda for the Fall meeting included:

Spring 2009

See Dr. Rue's presentation to all staff — Thriving in Turbulent Times — and these breakout session presentations:

Fall 2008

Staff@Work survey information:

Spring 2008

Agenda: Dr. Larry D. Roper, Vice Provost for Student Affairs at Oregon State University, spoke on community and diversity.

Spring 2007

Fall 2006
Note: This page has a friendly link that's easy to remember: http://blink.ucsd.edu/go/vcsastaffmeetings