Last updated November 14, 2012 5:44:00 PM PST
Read a brief history of the University of California, San Diego.
UCSD is recognized as the best institution of higher education established in the United States since World War II, according to the 1993 book "An Improbable Venture: A History of the University of California, San Diego."
Founded in the 1960s as a research institution, UCSD matured over the next three decades into a full-fledged campus. Throughout its history, UCSD has drawn the top names in science and research to its faculty, including several Nobel laureates and Pulitzer Prize winners.
UCSD evolved as an outgrowth of the Scripps Institution of Oceanography (SIO), founded in 1903 on the cliffs overlooking Black's Beach.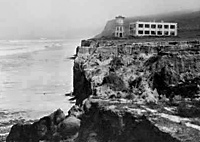 UC Berkeley zoology professor William Ritter and a group of San Diego civic leaders believed the West Coast needed a dedicated year-round marine laboratory and that La Jolla was the ideal location.
The result was the nation's first multidisciplinary oceanographic institution, later named Scripps Institution of Oceanography.
SIO became part of the University of California in 1912, and since then has expanded its research scope to include physics, chemistry, geology, biology, and the world climate.
The institution that became UCSD was first conceived by the University of California in the late 1950s during the postwar science boom. It was to be a graduate and research Institute of Technology and Engineering, providing instruction and research in mathematics, physics, chemistry, the earth and biological sciences, and engineering.
These original plans were soon expanded into plans for a more general campus under the leadership of Roger Revelle, then SIO director. The first faculty appointment was made in July 1957, and two years later, the UC Regents approved the University of California, La Jolla.
In 1960, the campus was renamed the University of California, San Diego, and its first graduate students were enrolled. UCSD admitted its first undergraduate students in 1964.
1903: Zoologist William Ritter, along with a group of prominent San Diegans, establishes the Marine Biological Association.
1912: Marine Biological Association transfers La Jolla land to University of California, and is renamed Scripps Institution for Biological Research.
1925: Renamed Scripps Institution of Oceanography
1958: UC Regents first authorize establishment of an Institute of Technology and Engineering, then approve a new general campus called the University of California, La Jolla.
1960: First graduate students are enrolled, and the campus name is changed to University of California, San Diego.
1961: Nuclear physicist Herbert York is appointed the first chancellor of UCSD.
1963: School of Science and Engineering is renamed First College and moves from Scripps to its present location.
1964: Undzergraduate program begins at First College, now renamed Revelle College after oceanographer Roger Revelle, SIO director.
1966: UCSD assumes operation of the San Diego County Hospital, now known as the UCSD Medical Center.
1968: UCSD School of Medicine opens.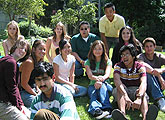 From its inception, UCSD adopted a residential college system patterned after Oxford and Cambridge. UCSD's goal with the colleges was to provide smaller "home" communities with closer interaction between students and faculty members than at most large research universities.
Since UCSD was founded, six colleges have been established:
Each college is headed by a provost — a faculty member who serves as the college's administrative and academic leader. Each college also has its own deans of academic advising, student affairs, and residential life, who provide a support system for students.
Every UCSD faculty member is affiliated with a college as well as an academic department.
UCSD's School of Medicine opened in 1968. Geneticist David Bonner, who founded UCSD's Department of Biology, had the idea to organize the medical school as an integral part of the general campus. The science and medical school faculties would be merged, to ensure a free flow of information between science scholars and physicians.
This unique approach enabled biologists, mathematicians, and biochemists to have a say about what medical students were taught in the first two years.
To satisfy the clinical requirement for med students, the School of Medicine took over the old county hospital in Hillcrest, and in 1972, it became University Hospital and eventually UCSD Medical Center.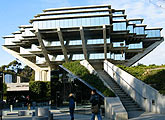 UCSD Libraries officially opened in 1960, when the campus was founded. Melvin J. Voigt was the first University librarian.
Between 1961 and 1963, the main library was housed within the Scripps Institution of Oceanography Library. When the main library finally moved to the upper campus, the SIO Library became a branch of the UCSD library system. The main library was then housed in the basement of what is now Galbraith Hall.
The architectural firm of William Pereira & Associates designed the Central University Library (as it was called then) in the late 1960s. Its unique layered design has become a visual symbol for UCSD. In December 1995 the University Library Building was renamed Geisel Library in honor of Audrey and Theodor Seuss Geisel, aka Dr. Seuss.
In 1982, a partnership between UCSD and the Stuart Foundation resulted in the founding of the Stuart Collection, under which the entire campus may be considered as a site for commissioned sculpture.
For a detailed account of UCSD's history, see Nancy Scott Anderson's "An Improbable Venture: A History of the University of California, San Diego" (1993).
Browse the gallery of archival photos from Scripps Institution of Oceanography.
The UCSD Archives in the Mandeville Special Collections Library contains a wealth of materials including:

Records of the chancellors
Student newspapers
Campus financial reports
Campus master plans
Course catalogs
Yearbooks
Commencement programs
Memorabilia