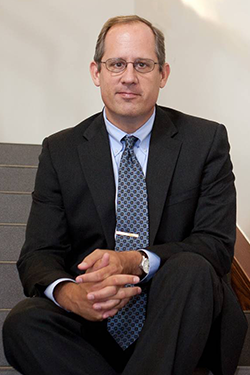 IT Services recently talked with Vince Kellen, the new Chief Information Officer for UC San Diego Information Technology Services, about his background, organizational philosophy and interests.
ITS: Tell us about your background. What experiences led you to becoming UC San Diego's new Chief Information Officer?
VK: In the last 13 years I've been a CIO in higher education—first at DePaul University in Chicago, a teaching institution, and the last seven years at the University of Kentucky, a research university. I've taught in higher education since 1998. I've also been a student, getting my bachelor's, master's and Ph.D. from DePaul. I have a couple of sisters who are lifelong teachers and my wife has been involved in early childhood education. So, we have a lot of teachers in the family, which a big reason why I am in higher ed.

The other half of my career was in industry in the area of IT, so I've seen things from very different perspectives. Also, part of my background is as an entrepreneur, so I certainly know what's involved in working with small companies.

My entrepreneurial, small business, big business, and higher ed experience help me see the university from many different angles.
ITS: What is your organizational philosophy?
VK: It's about teamwork. Building high-performance teams that can adjust well, correct each other midstream, hear diverse viewpoints, and come to good decisions. Then, more importantly, very quick, reliable execution. IT is a team game, so I'm a big fan of teamwork.

The other one is tapping into everybody's passion. IT is very heavy knowledge work. I love to tap into people's passions and align them with organization's mission. We have all sorts of demands from our stakeholders, both inside the university and from outside. To meet all those demands, we've got to be passionate.
ITS: How do you determine passions and inspire teams?
VK: The first thing is that all of us are individuals, we're different—so what really gets us going? What is our passion? And for some, it's not clear. Passion is different from interest. When a person is passionate, they're unstoppable. All of us usually find something we're passionate about at some point in our life. If we're lucky, we do it our whole life.

The second thing is that as teammates we have to be good at eliciting each other's passions and understanding them. And as managers we want to do this passion elicitation well, and that's tough to do.

Now, the passion has to be in an area that's legitimate, meaning that you can be really good at it. For example, I can be passionate about being a flute player, but it might not be realistic for me. So that's part of the process: What am I passionate about? Can I excel at it? And that's difficult sometimes to do, but when you go through this self-awareness exercise, especially when you get really good assessment from your peers and others, it can guide you to where you should be going.

So there's a process for doing that and all of us need to be involved individually and as leaders. I can't say it's formulaic. It's very talky and I think that's good. I feel we don't talk to each other enough in IT. How we execute our passion gets a little more mechanical and there are frameworks to do that.
ITS: What is your passion?
VK: I love where technology hits human beings at an individual and a social level. I view myself as a kind of helper. I'm here to help people learn how to design and use these new tools successfully without destroying ourselves in the process [laughter]. So I'm very passionate about how technology hits us as human beings.

Technology is everywhere. It's the administrator in the middle of their business processes. It's the analyst as they look at data. It's how we use it to communicate with each other daily and perform better as teams. It's not clear that every organization has figured this out yet. Most haven't. We only have about a generation behind us of using technology to work together as teams. So, we've got a lot ahead of us to learn.
ITS: What is IT's role in the university and beyond?
VK: Higher education is under a lot of scrutiny from citizens and stakeholders here in the U.S. Many people are eager to pull money out of state and federal funding because they look at us as profligate, unproductive, and not fit for the times.

I don't think all that criticism is legitimate. But there's no question that we have got to address those stakeholder concerns. Technology is a big part of that, obviously. It can help in efficiency, in effectiveness. It can help reallocate resources towards effective teaching and research components of our mission. Certainly in teaching it's now a critical toolset. So IT has a very big role to play in how we as institutions respond to the external stakeholder demands.
ITS: What are you looking forward to tackling first at UC San Diego IT Services?
VK: Whatever everybody says I should [laughter]. That's fairly easy if you look to the university's strategic plan. You look at the top priorities from the university and system level and then you work from there. Where there is ambiguity you build as much consensus as you can about what to do next.

Technologists are usually concerned about tools and how we use them. To me those are variables. Those will come and go as we work out the strategy. Strategy is most important to the institution and should be top of mind for us in IT. We've got to be very, as I like to say, pirate-like in how we approach technology in order to address strategy. By pirate-like I mean that technology is made up of tools, and we drop the tool when we see that it isn't going to work, and we get a new one. A lot of technologists have a hard time with that, but I'm a pirate, so I love to drop tools that aren't going to work.
ITS: What are you personally looking forward to, coming to UC San Diego?
VK: UC San Diego is an outstanding university. In fact, I think those in higher education know its stature better than those outside higher education and maybe even better than UC San Diego does.

It has this optimism about it, so I'm very interested in getting to know the university and all the people in it—what makes it tick and how it works.

Also, San Diego is new to me and my wife, so—getting used to San Diego and this part of the world. We lived in Arizona early in our marriage for a couple years, but San Diego is still much different.
ITS: It's a little bit of an adjustment from Kentucky?
VK: Oh yeah, very different. San Diego has a beautiful climate, beautiful weather. And I have an extended transition. We have a year to get my son out of high school, who is a junior and doing very well. My wife and I are very family oriented. It's about the success of our kids. We definitely want our kids to be successful, so we do everything we can to do help that.
ITS: Aside from lifestyle changes, what new challenges do you see?
VK: You guys have a better sense of that than I do. And I will learn that as I go. But from where I sit now, looking at and reading everything, and talking to people—I think they know their challenges.

In the larger scheme of things, there is lots of opportunity for UC San Diego: the growth of that market, the economy in the San Diego area, the growth of the student population, and what I'll call the economic spillover from the SoCal area—the Los Angeles area down into San Diego—the growing biotech corridor that's here. All that is really, really exciting. I think the challenge lies in taking full advantage of the opportunity.
----------------------------
Information Technology Services is the technology source for UC San Diego students, faculty, and staff. Visit the IT Services website for information about services and contacts.