Emergency Preparedness
Last updated August 23, 2013 1:54:19 PM PDT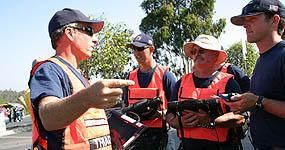 Learn about UC San Diego's emergency preparedness planning efforts and how to participate.
Anticipating and planning for emergency response minimizes possible injuries and property damage during a campuswide emergency, and eases resumption of normal business activity.
UCSD's preparedness planning depends on the efforts of each department and individual. Familiarize yourself with UCSD's emergency preparedness program.