Emergency Preparedness
Last updated January 28, 2013 3:10:27 PM PST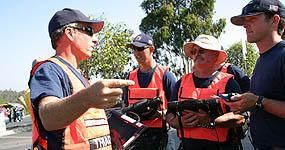 Learn about UCSD's emergency preparedness planning efforts and how you can and should participate.
Anticipating and planning for emergency response minimizes possible injuries and property damageduring a campuswide emergency, and eases resumption of normal business activity in theaftermath.
In addition to UCSD's Emergency Operations Plan, preparedness planning depends on the efforts of each department and individual. Familiarize yourself with UCSD's emergency preparedness program and how you fit into it.