UC San Diego's research funding
Ranked #5 in Research by NSF HERD Survey (2015)
65% from United States Government Agencies
3% from State of California
13% from Industry
19% from Non-Profit
 Negotiated F&A rate
Contractual obligation agreed upon between Universities and US Government
For every $1,000 in direct research costs, UC San Diego spends $756 to support the research
Administrative portion is capped at 26%
UCSD Federal negotiated rate = 55%; in effect since 2010 and is low compared to peer institutions
UCSD receives ~ 28-34% F&A
Why is it less than 55%? These factors impact the effective F&A rate:

F&A excludes equipment, capital expenditures, portion of sub-awards in excess of $25K, patient care costs, graduate student tuition remission, rental of off-site facilities, etc.
Off-campus F&A rate = 26%
Clinical Trials F&A rate = 30%
Some sponsors require lower F&A rates e.g.; non-profits, State of CA, foreign entities, etc.
F&A (Indirect Costs)
Facilities
Building depreciation, equipment depreciation and debt service costs
Operations and maintenance such as utilities, repairs, custodial
Environmental health and safety
Libraries
Administrative
Department, sponsored research and central services administration
Student services administration
Comparing Negotiated IDC (F&A) rate of peer institutions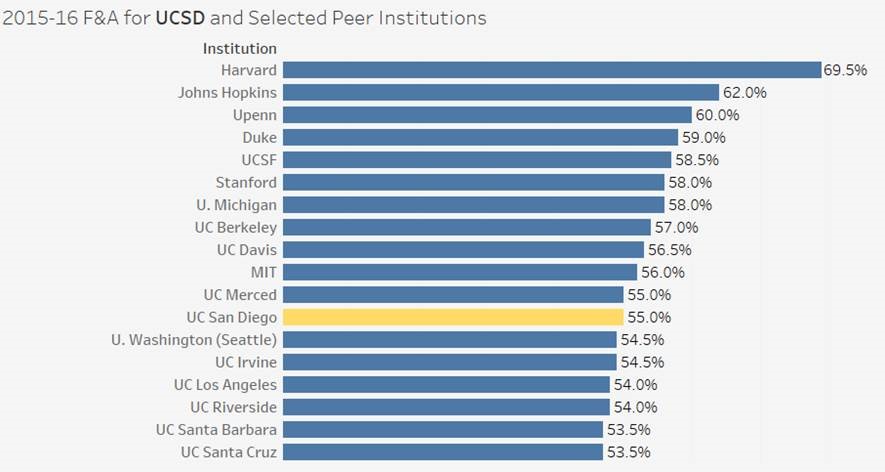 Links and supporting correspondence