Enhancing Academic Integrity in Your Classroom
Last Updated: December 10, 2014 1:25:21 PM PST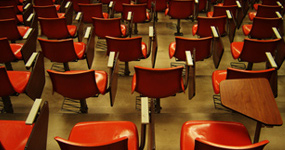 Learn effective ways to promote academic integrity in your classes.
Instructors can create a classroom culture of academic integrity by following these guidelines.
Many students violate academic integrity when they focus on the grade or product rather than on learning. To counter this:
Link class assignments with expected learning or class goals
Allow students to submit drafts
Ensure that assessments are fair measurements of expected learning
Students are temporary visitors in the academy, so they may not understand rules of scholarship and why they exist.
Especially in this generation, students have been in an educational environment that favors collaboration and using any "resources" (including the Internet) necessary to complete academic assignments. To enhance academic integrity for these students:
To uphold academic integrity in the classroom, take steps to reduce opportunities for cheating: